Ameritech Financial on Investing in Oneself, and How an Income-Driven Repayment Plan May Help
Press Release
-
updated: Jul 10, 2018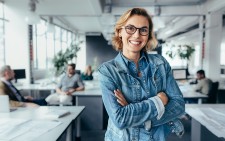 ROHNERT PARK, Calif., July 10, 2018 (Newswire.com) - "Stand out from the crowd" is a term used to explain the deviation from the social norm, and what makes a person better than or different from ordinary people or things. When job hunting or starting a new career, standing out is often essential for landing a target job. In fact, certain skills and accolades can even increase earning potential, which may be especially appealing to those who have a monthly student loan payment to contend with. Ameritech Financial, a document preparation company that helps borrowers with federal repayment plan applications, understands that college education will be increasingly necessary to support investing in oneself. The company reminds those with student loans that if they struggle with their payments, seeking an income-driven repayment plan (IDR) may provide relief.
Increasing earnings can be as simple as asking for a raise or looking into opportunities that are generally more lucrative than the current one. Other advice may be to figure out what makes one worth as much money as possible, and do whatever is needed to get there. That may include going back to school, but certain professions may have other avenues for growth.
"Investing in yourself, and making yourself more marketable, comes from learning and education," said Tom Knickerbocker, Executive Vice President of Ameritech Financial. "In order to be different, you have to do something different, and student loans shouldn't get in the way of that."
In order to be different, you have to do something different, and student loans shouldn't get in the way of that.
According to writers at ESI, there are quite a few skills worth paying for that could make someone stand out from the crowd. These include public speaking, analyzing data, knowing another language, and writing skills. Rooting those skills in an industry may result in higher earnings over the course of a career, which can help borrowers stay current on their student loans.
However, earning more is not the only way to stay current on student loans, and any money spent on pursuits to increase their worth in the workplace may make student loan repayment difficult. Such borrowers may find value in federal income-driven repayment plans, which base payments on income and family size.
"Every day we are helping our clients prepare the documents needed to submit to apply and qualify for government-backed federal student loan assistance programs," said Knickerbocker, "because investing in your future is something you cannot put off. By applying for an IDR, borrowers have the potential to lower their monthly payments to stay on track for student loan forgiveness after 20 to 25 years, and ultimately reach their full potential."
About Ameritech Financial
Ameritech Financial is a private company located in Rohnert Park, California. Ameritech Financial has already helped thousands of consumers with financial analysis and student loan document preparation to apply for federal student loan repayment programs offered through the Department of Education.
Each Ameritech Financial telephone representative has received the Certified Student Loan Professional certification through the International Association of Professional Debt Arbitrators (IAPDA).
Ameritech Financial prides itself on its exceptional Customer Service.
Contact
To learn more about Ameritech Financial, please contact:
Ameritech Financial
5789 State Farm Drive #265
Rohnert Park, CA 94928
1-800-792-8621
media@ameritechfinancial.com
Source: Ameritech Financial
---
Categories: Financing and Student Loans, Financial News
Tags: federal student loans, income-driven repayment, stand out
---
Ameritech Financial
5789 State Farm Drive, 265 (265)
Rohnert Park, CA 94928
United States