Ameritech Financial: Many Veterans Regret High Cost, Student Loan Debt of Going to For-Profit Colleges
Press Release
•
updated: Oct 30, 2018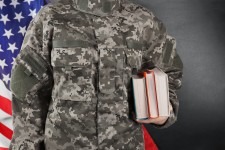 ROHNERT PARK, Calif., October 30, 2018 (Newswire.com) - In an educational trend that Ameritech Financial is closely monitoring, many military veterans say they regret their private for-profit college education and the high amount of student loan debt such education incurs. Veterans Education Success has reported that for-profit schools are targeting student veterans. Veterans choose these schools because they advertise themselves as accelerated, focused academic programs that promise dynamic careers. Many veterans leave with no degree or a degree that does not get them the job they want and a large amount of student loan debt. Ameritech Financial, a private company, assists veterans or anyone overwhelmed with student loan debt in applying for and maintaining enrollment in federal programs, such as income-driven repayment plans (IDRs), that can possibly lower monthly payments based on income and family size.
"It's discouraging to see anyone, but especially veterans who have served our country, run into trouble with student loan debt," said Tom Knickerbocker, executive vice president of Ameritech Financial. "Most of our clients come to us overwhelmed with student loan debt. We assist them in determining if they may be qualified for an IDR and, if they are, which one may be the right one for them."
It's discouraging to see anyone, but especially veterans who have served our country, run into trouble with student loan debt.

Tom Knickerbocker, Executive Vice President of Ameritech Financial
One reason for-profit schools might target veterans is to get around federal regulations restraining for-profit institutions from receiving revenues in excess of 90 percent from federal aid. Because of a loophole in federal law, for-profit schools count GI Bill money as private dollars. These schools appear helpful to veterans applying for their programs. They often assist them in applying for GI Bill benefits and loans. Veterans report that this attention and encouragement makes them feel like they have someone in their corner fighting for them. But, eventually, they feel misled. As navy veteran Milo Johnson said in a recent PBS story, "At the time I thought 'OK, they're really going to help me maneuver it.' But once you have your GI Bill, they know they're going to get paid."
Unfortunately, once their GI Bill money is gone, veterans are encouraged to take on student loan debt. And veterans claim these resources are not well spent. A 2014 Senate report found that 66 percent of veterans using their GI Bill benefits left their for-profit college program without degrees. Additionally, four of the 10 schools described in the report failed to provide job placement services that allowed students to repay loans taken out in addition to their GI Bill money. Also, between 39 and 57 percent of the programs offered by the four institutions that received the most GI Bill benefits failed to meet gainful employment rules. This suggests that the students going to these institutions cannot make enough to pay back their student loan debt. The Senate report confirmed that, though overall enrollment declines for these institutions, it is increasing for veterans and that taxpayers are shelling out a disproportionate amount of funds for veterans at for-profit colleges.
"As with all trends in the industry, we are closely watching these developments," said Knickerbocker. "We hope to be the trusted advocates of borrowers who are unable to keep up with their student loan payments, helping them navigate their repayment options. We do the extra legwork so that our clients can get back to taking care of their lives."
About Ameritech Financial
Ameritech Financial is a private company located in Rohnert Park, California. Ameritech Financial has already helped thousands of consumers with financial analysis and student loan document preparation to apply for federal student loan repayment programs offered through the Department of Education.
Each Ameritech Financial telephone representative has received the Certified Student Loan Professional certification through the International Association of Professional Debt Arbitrators (IAPDA).
Ameritech Financial prides itself on its exceptional customer service.
Contact
To learn more about Ameritech Financial, please contact:
Ameritech Financial
5789 State Farm Drive #265
Rohnert Park, CA 94928
1-800-792-8621
media@ameritechfinancial.com
Source: Ameritech Financial
Related Media
Additional Links