Ameritech Financial: Increasingly, Students Ask for Help With College Tuition Through Crowdfunding
Press Release
-
updated: Oct 29, 2018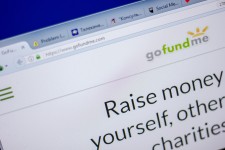 ROHNERT PARK, Calif., October 29, 2018 (Newswire.com) - Increasingly, students ask for help for college tuition through crowdfunding sites, particularly GoFundMe, to help bridge the gap normally spanned by student loans. In Maryland alone, there were nearly double the college educational campaigns in 2017 as in the previous year, according to a recent article in The Baltimore Sun. With surging college costs and decreased state funding, students and their families have had to shoulder a greater percentage of the burden of higher education, which has added to the mounting student loan debt crisis. Ameritech Financial, a document preparation company, guides borrowers who have been overwhelmed by student loan debt through the process of applying for and maintaining enrollment in federal programs, such as income-driven repayment plans (IDR).
"Students are resourceful and it looks like crowdfunding is being used as an option to slow down how much student loan debt they take on while going to college," said Tom Knickerbocker, Executive Vice President of Ameritech Financial. "If you find you are unable to keep up with your household bills and student loan debt once you get out of college, we can help you find out if you qualify for an IDR, help you maximize your benefit, and possibly lower your monthly payments based on income and family size, and get you back on track to financial stability."
The most recent data available from GoFundMe suggests that more than 3,200 campaigns raised more than $1.5 million in one state alone, Maryland, in the 2016-2017 school year for higher education funds. Though this is dwarfed by the national student loan debt crisis — more than 44 million borrowers owe more than $1.5 trillion — it is still enough to be considered a trend. Campaigners report that watching their generation deal with student loan debt has made them proactive, and this has resulted in crowdfunding as a way to ensure that their futures are not shaped by student loan debt.
GoFundMe remains the biggest personal crowdfunding website and claims that users have received more than $60 million for expenses related to college since the site was launched in 2010. In addition, other crowdfunding websites include YouCaring (recently acquired by GoFundMe), GoGetFunding, and LoanGifting. Each of these entities charges at least 2.9 percent plus $.0.30 per transaction, though users are urged to be careful since some do charge more than others. Experts suggest that successful campaigns are made up of more than a generic plea, but instead are compelling narratives that prove the campaigner is worthy of support. Working in campaigners' favor, though, is the depth at which people increasingly understand the long-term burden of student loan debt.
"It is a shame that individuals feel compelled to pass the hat in order to get through their experience of higher education without a lifetime of student loan debt," said Knickerbocker. "Dealing with loan servicers can be unnecessarily daunting, but we can help you navigate their sometimes overly complex processes, and perhaps get you some relief from those overwhelming monthly payments."
About Ameritech Financial
Ameritech Financial is a private company located in Rohnert Park, California. Ameritech Financial has already helped thousands of consumers with financial analysis and student loan document preparation to apply for federal student loan repayment programs offered through the Department of Education.
Each Ameritech Financial telephone representative has received the Certified Student Loan Professional certification through the International Association of Professional Debt Arbitrators (IAPDA).
Ameritech Financial prides itself on its exceptional Customer Service.
Contact
To learn more about Ameritech Financial, please contact:
Ameritech Financial
5789 State Farm Drive #265
Rohnert Park, CA 94928
1-800-792-8621
media@ameritechfinancial.com
Source: Ameritech Financial
Share:
---
Categories: Financing and Student Loans, Financial News
Tags: college costs, college tuition, crowdfunding, federal student loans, income-driven repayment
---