Ameritech Financial: How to Define Excessive Student Loan Debt
Press Release
•
updated: Sep 19, 2018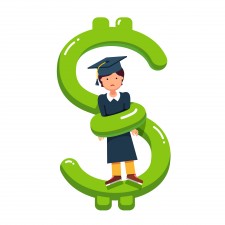 ROHNERT PARK, Calif., September 19, 2018 (Newswire.com) - What is excessive student loan debt? How can it be defined? Of course, very simply, too much student loan debt is an amount that cannot be paid off in a reasonable amount of time and both stalls lifecycle progress and disrupts the financial stability of a borrower. One policy paper more specifically defines excessive student loan debt as being more than half the after-tax increase in income that a student gains from obtaining a degree. This amount determines whether they will be able to comfortably pay off their student loans in 10 years. Ameritech Financial, a document preparation company that specializes in helping people apply for federal repayment plans and forgiveness programs, encourages borrowers to avoid excessive student loan debt. If unmanageable student loan debt has already been accumulated, the company can assist borrowers in applying for and maintaining enrollment in federal programs, such as income-driven repayment plans (IDRs).
"It is imperative to define the problem and this is one way to look at it," said Tom Knickerbocker, executive vice president of Ameritech Financial. "For those who have already taken on too much debt, we can help borrowers find the right IDR and assist them in navigating the sometimes complex process of applying for programs intended to lower monthly payments based on income and family size."
Excessive student loan debt is life-altering.

Tom Knickerbocker, Executive Vice President of Ameritech Financial
The rule of thumb for the study is to be sure that a borrower pays no more than 10 percent of their income on student loan repayment. The authors provide a way to forecast this by considering how much more income a degree or certificate earns a borrower than a high school graduate. A student earning a bachelor's in the humanities, for example, can expect to make $45,000, which is $15,000 more than a high school graduate. Half of that, after taxes, is about $4,500 which is 10 percent of income, enough to pay off a $35,000 loan in 10 years. Any more than $35,000 should be considered excessive student loan debt for a humanities major and should be avoided.
This effort to quantify excessive student loan debt also explores outcomes associated with it. For example, students who graduate with excessive student loan debt are more likely than borrowers with affordable debt to postpone major life events, such as buying a home, getting married and having children. They are more likely to accept employment outside their field of study, to work more than desired and to have more than one job. These borrowers are less likely to spend more than $350 on a car payment, the difference between buying a new or used car. They are also, one year after graduation, less likely to feel their undergraduate education was worth the financial impact on their lives.
For borrowers who aren't able to keep up with their student loan debt and face monthly challenges with household expenses and student loan payments, looking into an IDR with the trusted experts at Ameritech Financial might provide just the right guidance that is needed. IDRs calculate monthly federal loan payments on a borrower's income and family size and can end in the forgiveness of any remaining balance after 20 to 25 years of enrollment.
"Excessive student loan debt is life-altering," said Knickerbocker. "We can help make it more manageable by guiding you through the IDR application process, and even help you keep up with the required yearly recertifications."
About Ameritech Financial
Ameritech Financial is a private company located in Rohnert Park, California. Ameritech Financial has already helped thousands of consumers with financial analysis and student loan document preparation to apply for federal student loan repayment programs offered through the Department of Education.
Each Ameritech Financial telephone representative has received the Certified Student Loan Professional certification through the International Association of Professional Debt Arbitrators (IAPDA).
Ameritech Financial prides itself on its exceptional customer service.
Contact
To learn more about Ameritech Financial, please contact:
Ameritech Financial
5789 State Farm Drive #265
​Rohnert Park, CA 94928
1-800-792-8621
​media@ameritechfinancial.com
Source: Ameritech Financial
Related Media
Additional Links