Ameritech Financial: For Low-Income Students, Where is What Matters
Press Release
•
updated: Nov 11, 2018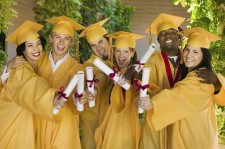 ROHNERT PARK, Calif., November 11, 2018 (Newswire.com) - For years, studies have indicated that low-income students have the most difficult time navigating higher education. Now that the Pell Grant program is reporting graduation rates for students who receive this funding, there is solid proof that low-income students fare much worse than their higher-income peers. Pell Grants are offered to students who demonstrate financial need. In fact, more than 75 percent of recipients come from families that earn less than $40,000 per year. After six years, only 49 percent of these students had graduated, compared to 69 percent for those with more family resources. Unfortunately, lower graduation rates are associated with higher student loan default rates. Ameritech Financial, a document preparation firm, helps those struggling with student loan debt apply for and maintain enrollment in federal programs, such as income-driven repayment plans (IDRs) that can possibly lower monthly payments based on income and family size.
"Unfortunately, many students have a disadvantage before they get to college," said Tom Knickerbocker, Executive Vice President of Ameritech Financial. "We help all borrowers navigate the paperwork required by loan servicers to enroll in a more flexible repayment plan, acting as a trusted advocate, so our clients get the right answers and solutions to your very real issues."
Unfortunately, many students have a disadvantage before they get to college.

Tom Knickerbocker, Executive Vice President of Ameritech Financial
The Pell Grant, intended to help those from low-income families, began in 1972, but only started publishing graduation rates in 2017. These grants are awarded to more than five million students at more than 5,400 colleges. Though success for Pell students is significantly less than other students, some schools have much better success rates. Just over 90 percent of students at Howard University, a Historically Black College and University, receive Pell Grants. Of these students, 79 percent graduate within six years. They give credit to their commitment to focused tutoring and need-based financial aid. Rowan University in New Jersey graduates 66 percent of its Pell students within six years. Rowan has responded to food insecurity for its low-income students with an on-campus food bank.
Louisiana, Alabama, Colorado, Wyoming, New Hampshire, Rhode Island, and Connecticut have no colleges that graduate more than half of its Pell students. Texas fares a bit better than these Pell "deserts." They have four colleges deemed high-quality Pell-Serving Institutions (PSIs), though it must be noted that these colleges serve 28 million Texans.
California, on the other hand, has seven of the top 10 PSIs in the country. The University of California at Los Angeles has the most success of any public college—85 percent of its students graduate on time, nearly as high as its on-time graduation rate for all students, which is 90 percent. UCLA has developed dedicated dorm floors, dinners, and meet-ups for disadvantaged students to share, collaborate and give support. A Third Way report shows a strong correlation between low graduation rates and student loan default. The study urges programs similar to those at Howard, Rowan, and UCLA to facilitate college completion and enable student loan repayment.
"We closely monitor information concerning college success and student loan repayment and applaud policies that set students up for financially viable futures," said Knickerbocker. "For those who have struggled with their student loan debt, we have helped thousands of clients apply for an IDR and help them determine which program may be the best one for them. Hopefully, we can assist you in your efforts to lower your monthly payment and then make sure you maximize your benefits by keeping you up-to-date with your servicer, perhaps even ending in forgiveness in 20 or 25 years."
About Ameritech Financial
Ameritech Financial is a private company located in Rohnert Park, California. Ameritech Financial has already helped thousands of consumers with financial analysis and student loan document preparation to apply for federal student loan repayment programs offered through the Department of Education.
Each Ameritech Financial telephone representative has received the Certified Student Loan Professional certification through the International Association of Professional Debt Arbitrators (IAPDA).
Ameritech Financial prides itself on its exceptional Customer Service.
Contact
To learn more about Ameritech Financial, please contact:
Ameritech Financial
5789 State Farm Drive #265
Rohnert Park, CA 94928
1-800-792-8621
media@ameritechfinancial.com
Source: Ameritech Financial
Related Media
Additional Links