Ameritech Financial: Doctors Need Help Managing Student Loan Debt, Too
Press Release
-
updated: Sep 3, 2018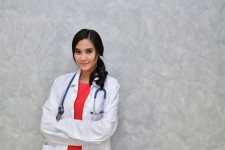 ROHNERT PARK, Calif., September 3, 2018 (Newswire.com) - Student loan debt can be extremely challenging for anyone, and this even includes doctors, as noted in a recent article by the Cancer Therapy Advisor. The average doctor racks up more than $180,000 in debt going to a public institution, and about $203,000 to attend a private institution. The profession has been traditionally considered a safe bet in terms of loan repayment since the starting annual salary begins at about $190,000, allowing doctors to stay close to the 1:1 salary-to-debt ratio that most financial advisors suggest. The article offers suggestions for doctors on how to manage their student loan debt after medical school, including federally available income-driven repayment plans (IDRs). Ameritech Financial, a document preparation company, assists borrowers overwhelmed with student loan debt in applying for and maintaining enrollment in IDRs that possibly lower monthly payments based on income and family size.
"Student loan debt is an equal opportunity scourge, impacting lives across all cultural and economic categories," said Tom Knickerbocker, Executive Vice President of Ameritech Financial. "If you run into trouble navigating the process of securing an IDR with your servicer, we can guide you step by step, hopefully helping you to lower your monthly payment and giving you the financial breathing room you need."
As the article points out, interest can be especially challenging for doctors and other professions that build up high amounts of debt. For example, on a $180,000 loan, even if a borrower can keep up with payments for 10 years at five percent interest, that loan would incur nearly $50,000 in interest that would need to be paid in addition to principal.
Because the total cost of principal and interest on a medical degree can be so high, three suggestions are offered. If possible, the debt could be refinanced at a lower rate. In the above scenario, a two percent rate drop would mean a $20,000 decrease in interest. Another possibility is for new doctors to negotiate a signing bonus and to put that money directly toward student loan debt. For example, a $25,000 signing bonus, after taxes, could reduce total interest paid by about $10,000. The final suggestion is to consider an IDR, which calculates monthly payments that generally won't exceed 10 or 15 percent of discretionary income and could significantly lower the nearly $2,000 monthly payment that a $180,000 debt requires, depending on one's income and family size.
"IDRs are an excellent option for many borrowers," said Knickerbocker. "We can help you decide if an IDR is right for you, which one will help you the most, and dot all the i's and cross all the t's as you put yourself on the path to greater financial freedom."
About Ameritech Financial
Ameritech Financial is a private company located in Rohnert Park, California. Ameritech Financial has already helped thousands of consumers with financial analysis and student loan document preparation to apply for federal student loan repayment programs offered through the Department of Education.
Each Ameritech Financial telephone representative has received the Certified Student Loan Professional certification through the International Association of Professional Debt Arbitrators (IAPDA).
Ameritech Financial prides itself on its exceptional Customer Service.
Contact
To learn more about Ameritech Financial, please contact:
Ameritech Financial
5789 State Farm Drive #265
Rohnert Park, CA 94928
1-800-792-8621
media@ameritechfinancial.com
Source: Ameritech Financial
---
Categories: Financing and Student Loans, Financial News
Tags: doctor, income-driven repayment, refinancing, student debt, student loan repayment, student loans
---