Ameritech Financial: Concurrent Enrollment Saves Money, Lessens Student Loan Debt
Press Release
•
updated: Nov 18, 2018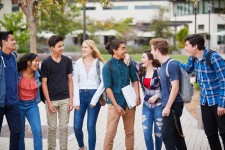 ROHNERT PARK, Calif., November 18, 2018 (Newswire.com) - More than 36,000 high school students are concurrently enrolled in college courses, a fifteen percent increase over the previous years. Concurrent enrollment allows students to experience the increased rigors of higher education while also saving on total college cost. The Utah System of Higher Education (USHE) suggests that this will save these students more than $48.7 million in future tuition — and this does not even take into consideration the amount of money that can be saved by graduating a semester or two early. USHE is boasting of this development because the cost of college has become a huge part of a national debate about how to deal with student loan debt. With more than 44 million borrowers owing more than $1.5 trillion, concurrent enrollment can help individuals significantly cut cost and lessen overall debt. Ameritech Financial, a document preparation company, guides borrowers overwhelmed by student loan debt through the process of applying for and maintaining enrollment in federal programs, such income-driven repayment plans (IDRs), which can possibly lower payments based on income and family size.
"It is always encouraging to see students find ways to lessen the financial burden of going to college," said Tom Knickerbocker, Executive Vice President of Ameritech Financial. "If you have already run into trouble repaying your student loans, we can help you navigate various federal repayment options to help you choose your best option for your circumstances, then assist you in recertification, making sure you are maximizing the benefits available to you."
It is always encouraging to see students find ways to lessen the financial burden of going to college.

Tom Knickerbocker, Executive Vice President of Ameritech Financial
The National Alliance of Concurrent Enrollment Partnerships (NACEP) advocates for high school students to concurrently take college courses because it is a "low-cost, scalable" model to gain college exposure and earn college credit. In concurrent enrollment, high school instructors teach college courses. NACEP suggests that concurrent enrollment helps students transition to college, since 63 percent of colleges report that concurrent enrollment improves the likelihood of being accepted to college.
Since concurrent enrollment is taught by high school teachers, instructors must be certified to teach college-level courses. This requires states to prepare teachers for this certification. USHE recently awarded Dixie State University, in St. George, Utah, a $250,000 grant to increase the number of high school teachers eligible to teach college-level math. The grant includes funding that will go directly to high schools to teach courses, and also to fund a college faculty member who will be a resource for high school teachers who want to teach concurrent enrollment classes.
The concurrent enrollment program began as a small North Carolina program encouraging less than 200 high school students to enroll in college-level courses in 2002. Hundreds of thousands of students across the nation now can save up to $44,000 in tuition expense, drastically cutting tuition and living expenses for students. This dramatically lessens the long-term negative impacts of student loan debt for participating students.
"The depth and impact of the student loan debt crisis is motivating governments and institutions to find solutions for hard-hit students and their families," said Knickerbocker. "We remain committed to finding individual solutions for each borrower overburdened by student loan debt. We can help with all the paperwork so that you might finally have some reprieve, based on disposable income and family size, from the pressure of high monthly payments.
About Ameritech Financial
Ameritech Financial is a private company located in Rohnert Park, California. Ameritech Financial has already helped thousands of consumers with financial analysis and student loan document preparation to apply for federal student loan repayment programs offered through the Department of Education.
Each Ameritech Financial telephone representative has received the Certified Student Loan Professional certification through the International Association of Professional Debt Arbitrators (IAPDA).
Ameritech Financial prides itself on its exceptional Customer Service.
Contact
To learn more about Ameritech Financial, please contact:
Ameritech Financial
5789 State Farm Drive #265
Rohnert Park, CA 94928
1-800-792-8621
media@ameritechfinancial.com
Source: Ameritech Financial
Related Media
Tags
Additional Links