Ameritech Financial: Billions of Robocalls Scamming Consumers, Including Student Loan Borrowers
Press Release
•
updated: Nov 26, 2018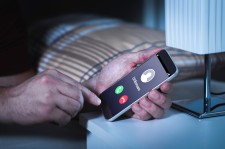 ROHNERT PARK, Calif., November 26, 2018 (Newswire.com) - Right now, about 30 percent of all cell phone calls come from robocall scammers. Next year, that number will increase to half of all calls, according to First Orion. The ability of scammers to mask caller identity is a main reason for this huge increase in fraudulent calls. Scam robocalls play upon the anxiety, greed, or naivete of callers. The most common calls are for cut-rate healthcare, telecom "warnings," "free vacations," and "help" with student loan debt. Individuals with student loan debt, in particular, are convenient marks for scammers, since their debt so often overburdens their ability to pay for it. Ameritech Financial, a document preparation company, assists borrowers in applying for and maintaining enrollment in federal repayment programs, such as income-driven repayment plans (IDRs) that can possibly lower monthly payments based on income and family size.
"Scam calls range from being simply annoying to being devastating for those who fall victim to their deceptive practices," said Tom Knickerbocker, Executive Vice President of Ameritech Financial. "It makes sense that many of these calls involve student loan debt, since it is such a widespread challenge for millions of Americans. For those overwhelmed by student loan debt, one way to lower the risk of falling for a scam is to better understand your options. We can help you decide which is the best IDR for you, and make sure you continue to maximize the benefits available to you for the life of the loan."
It makes sense that many of these calls involve student loan debt, since it is such a widespread challenge for millions of Americans.

Tom Knickerbocker, Executive Vice President of Ameritech Financial
Neighborhood spoofing allows robocalls to look like local calls. Ninety percent of fraudulent robocalls will come from a familiar area code in 2019, according to The Inquirer. These calls are continuing to increase in sophistication. Scammers employ the same A-B testing as marketers, constantly shifting to techniques that are most effective. In one highly unnerving call, scammers appear to be calling from the phone number of the person receiving the call. Scammers then say that their cell phone account has been flagged for security purposes. They eventually ask for social security information or credit card numbers to clear up this non-existent issue.
There were nearly 500 million robocalls in October relating to healthcare, nearly 10 percent of the 5.1 billion robocalls to Americans that month. The scams are fooling some people because it is open enrollment for many health insurance plans. They often suggest that existing healthcare accounts have been compromised, or they offer extremely low-priced plans. Scammers almost always attempt to get consumers to share sensitive information.
Stressed out student loan borrowers are also prominent on the radar of scammers. One fraudulent robocall suggests that the Department of Education is no longer accepting entry into the Public Service Loan Forgiveness program. The call entices borrowers to sign up for long-term forbearance and stop future payments. Similar to the other scams, the idea is to string callers along until they give up credit card or social security information.
"It looks like these scams are only increasing in number and sophistication," said Knickerbocker. "Fortunately, even if you can't keep up with your student loan debt, you have better options than answering unsolicited phone calls. We can be your trusted advocate as we help you navigate your student loan debt and repayment options. IDRs might be a great way for you to lower your monthly payment enough to take control of your financial circumstances. We can walk you through the entire process so that you can get back to living your life."
About Ameritech Financial
Ameritech Financial is a private company located in Rohnert Park, California. Ameritech Financial has already helped thousands of consumers with financial analysis and student loan document preparation to apply for federal student loan repayment programs offered through the Department of Education.
Each Ameritech Financial telephone representative has received the Certified Student Loan Professional certification through the International Association of Professional Debt Arbitrators (IAPDA).
Ameritech Financial prides itself on its exceptional Customer Service.
Contact
To learn more about Ameritech Financial, please contact:
Ameritech Financial
5789 State Farm Drive #265
Rohnert Park, CA 94928
1-800-792-8621
media@ameritechfinancial.com
Source: Ameritech Financial
Related Media
Additional Links