Ameritech Financial Asks: Save for Retirement or Child's Education?
Press Release
•
updated: Nov 13, 2018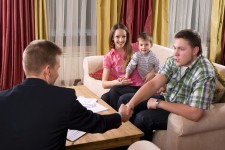 ROHNERT PARK, Calif., November 13, 2018 (Newswire.com) - Parents have serious concerns. They need to launch their children into healthy, strong, curious and vibrant adulthoods. But there are so many difficult decisions along the way, many of them financial. With limited resources and endless demands, parents need to decide whether it is more important to save for their child's education or save for their own retirement. This has resulted in intense debate, but many financial planners urge parents to prioritize saving for their future security over saving for college. The stakes in this discussion are raised by the increasing pressure from the national student loan debt crisis — more than 44 million borrowers are now weighed down by over $1.5 trillion. Ameritech Financial helps borrowers overwhelmed by student loans apply for and maintain enrollment in federal programs, such as income-driven repayment plans (IDRs). A document preparation company, Ameritech Financial understands the pressure that parents feel to both plan for themselves and care for their children. IDRs can possibly lower monthly payments enough to give flexibility back to borrowers who have pressing financial needs.
"Parents must make their own choices when it comes to their children," said Tom Knickerbocker, executive vice president of Ameritech Financial. "IDRs, based on income and family size, might lower payments enough to provide some breathing room within tight household budgets."
Sometimes, there just aren't enough resources available to do everything you want to do.

Tom Knickerbocker, Executive Vice President of Ameritech Financial
One reason that parents should consider prioritizing their retirement is that while college is four years, retirement might last 20 years or longer. Mandi Woodruff of MagnifyMoney suggests that the dilemma is much like being in a depressurized airplane cabin. Parents need to put their own "oxygen mask" on before helping their child. While there are various ways to pay for college — grants, scholarships, loans and work-study — there is only one way to build a nest egg for retirement, and that is to save. Nearly a quarter of parents expect to receive financial support from their children, but they will have their own expenses by retirement age and parents need to be prepared to care for themselves.
Financial planners urge parents to have honest discussions with their children about college. Parents may want to give their children all the resources they can, but allowing them to understand real financial concerns may provide lifelong lessons. One suggestion is for parents to tell children exactly how much they can afford, so all family members understand their obligations and responsibilities. Student loan debt looms large over these discussions and parents need to facilitate an understanding of debt and its long-term effects. Modifying from a "dream" college to a more affordable course of study may make the most sense for parents and children. And if children struggle with student loan debt once they leave college, IDRs may be preferable to Mom or Dad riding to the rescue.
"Sometimes, there just aren't enough resources available to do everything you want to do," said Knickerbocker. "But we want to make sure that all of our clients have every opportunity to take care of the most important obligations in their lives. We guide them through the sometimes overly complex processes loan servicers require, acting as their trusted advocate as they apply for IDRs, and making sure they maximize available benefits."
About Ameritech Financial
Ameritech Financial is a private company located in Rohnert Park, California. Ameritech Financial has already helped thousands of consumers with financial analysis and student loan document preparation to apply for federal student loan repayment programs offered through the Department of Education.
Each Ameritech Financial telephone representative has received the Certified Student Loan Professional certification through the International Association of Professional Debt Arbitrators (IAPDA).
Ameritech Financial prides itself on its exceptional customer service.
Contact
To learn more about Ameritech Financial, please contact:
Ameritech Financial
5789 State Farm Drive #265
​Rohnert Park, CA 94928
1-800-792-8621
​media@ameritechfinancial.com
Source: Ameritech Financial
Related Media
Additional Links