America's Remanufacturing Company Executive Named to RIC Board
Paul Adamson Elected to Remanufacturing Industries Council Board of Directors
Press Release
-
updated: Jan 18, 2018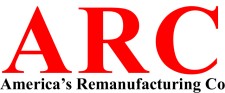 AUGUSTA, GA, January 18, 2018 (Newswire.com) - America's Remanufacturing Company, a reverse logistics and remanufacturing solutions company servicing OEMs, Distributors and Retailers, announces the election of Paul Adamson to the Remanufacturing Industries Council Board of Directors. The appointment follows Paul's two-year involvement with the association as a member of the association and the chair of the marketing and membership committee.
On the appointment, ARC CRO Paul Adamson said, "The Remanufacturing Industries Council is the premiere trade association advocating on behalf of the global remanufacturing industry. I believe in our mission to work across industry sectors to support the entire remanufacturing industry through a combination of collaboration, education, advocacy, and research. I am honored that my industry peers would select me to help shape the future of the RIC."
"The Remanufacturing Industries Council is the unified voice for a global remanufacturing audience. RIC provides a platform for free communication and collaboration with other stakeholders in order to create winning remanufacturing businesses. As the voice of the remanufacturing industry, RIC actively promotes the financial, environmental, and workforce benefits of this important business sector.," said Bill Davies, RIC Past Chair. "Our Board demonstrates the breath of our industry representation with 8 of the 12 identified remanufacturing sectors fully represented. We are well positioned for growth in 2018 and beyond with Paul's recent addition to our board." 
About America's Remanufacturing Company
America's Remanufacturing Company (ARC) is a reverse logistics and remanufacturing solutions company that helps OEMs, Distributors, and Retailers reduce costs, protect brands, improve customer experience, and gain access to key data from returned products. Our solutions are guided by a simple principle: help companies redefine remanufacturing to improve their operations. ARC serves customers in key consumer product categories, including: Small Appliance, Small Electric, Floorcare, Powered Hand Tools, and Outdoor Power Equipment. America's Remanufacturing Company is uniquely positioned as the only vertically integrated solutions company in North America to offer remanufacturing, recycling and resale services. ARC is a member of the Remanufacturing Industries Council and supports ANSI standard RIC001.1-2016: Specifications for the Process of Remanufacturing.
ARC Marketing Contact:
Paul Adamson
+1 512.731.5957
Source: America's Remanufacturing Company
---
Categories: Business News, Supply Chain Management, Production and Manufacturing
Tags: ARC, RemanCouncil.Org, Remanufacture, Remanufacturing, RIC
---