America's Most Famous Lost Automotive Art May Soon Be on the Road Again
Press Release
•
updated: Jun 8, 2018
The owners forget where they parked the iconic Hippie Bus and fans are racing to resurrect it ahead of the Woodstock 50th anniversary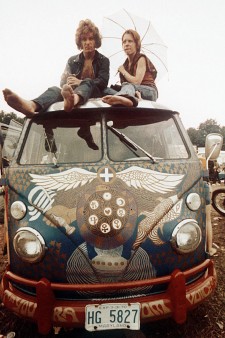 BALTIMORE, June 8, 2018 (Newswire.com) - A documentary producer is teaming up with a Baltimore artist in an attempt to recover a priceless Volkswagen Bus, a lost piece of Woodstock history, in the lead-up up to the festival's 50th anniversary. The Woodstock Bus project was announced today by Arcadia Content.
The "Light" bus was a 1963 Volkswagen Bus painted by Dr. Bob Hieronimus, a visionary Baltimore artist who worked alongside 60s musical icons.
The problem? In a true 'hippie moment,' neither Grimm, Hieronimus or anyone else can recall exactly where they left the bus …

John Wesley Chisholm, Woodstock Bus Project
Known for his "art cars," Hieronimus painted the bus in the summer of '69 for friend Bob Grimm and his band "Light" for their trip to Woodstock.
Because of its colorful symbolic paint job (dedicated to world peace), organizers allowed Grimm to bring the bus on-site for the festival.
The bus was photographed by media outlets including the Associated Press and Rolling Stone Magazine and seen by millions.
Five decades later, the "Light Bus" has become one of the most recognizable symbols of the Woodstock era and the inspiration for countless Hippie Buses.
The problem? In a true "hippie moment," neither Grimm, Hieronimus or anyone else can recall exactly where they left the bus …
Enter documentary producer John Wesley Chisholm.
Chisholm has spent 20 years taking on epic searches, including lost shipwrecks and Knights Templar treasures.
After six months searching VW clubs, events, fields and junkyards across America, it became clear to Chisholm that Dr. Bob would need a new canvas. The bus is lost. Most likely rusted into the ground near a commune in Baltimore.
"We'll use an unrestored matching bus for Dr. Bob's original artwork," says Chisholm undeterred.
But the search for the matching bus is proving nearly as difficult as finding the original.
Chisholm says they are relying on help from bus enthusiasts around America.
The response has been supportive.
"There's really something of the spirit of Woodstock in modern VW Bus culture," says Chisholm.
He's helping raise restoration funds by offering artworks and rides in the bus through Kickstarter.
Supporters have already donated over $55,000 to the project. It will take $35,000 to complete the Kickstarter funding.
They plan to finish the restoration and painting by the fall of 2018.
Then, the new "Light" bus will hit the road to VW events, taking the long way around America back to Woodstock.
After the Woodstock 50th, Dr. Bob will be looking for a "forever home" for the bus so that as many people as possible can enjoy this amazing piece of history.
Contact:
John Wesley Chisholm
1.902.225.0763
jwc@arcadiatv.com
Source: Arcadia Content
Related Media
Tags
Additional Links