Americas Market Intelligence Publishes Whitepaper on Managing Risk in Latin America
Press Release
-
updated: Oct 18, 2018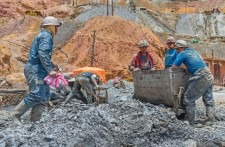 MIAMI, October 18, 2018 (Newswire.com) - Americas Market Intelligence (AMI) has published a whitepaper detailing seven key risks faced by miners and mining investors in Latin America — and how to best manage, minimize and mitigate them.
Entitled Managing Mining Risk in Latin America, the whitepaper is available for free download on AMI's website.
"Because of the significant drop in mineral prices in 2013 and the subsequent pause in new exploration, Latin America has a shortage of scalable mining projects," explains John Price, managing director for AMI and co-author of the whitepaper. "Capital will now need to fund more early-stage projects with longer ROI timeframes. This means that investors will be exposed to higher levels of risk." 
"We created the whitepaper to help miners better understand the causes of the risks that slow or shut down mining projects, as well as what they can do to handle these challenges," says Dr. Remi Piet, co-author of the whitepaper and senior director of AMI's Natural Resources and Infrastructure practice. "After helping miners and investment firms work around or through mining risks in LatAm for the past 15 years over the course of 200-plus engagements, we wanted to share some of the insights we've developed along the way."  
Managing Mining Risk in Latin America cites real-life cases and reflects the experience of its authors to deliver actionable advice for mining industry professionals. Topics include:
·         Why community management strategies must go well beyond basic CSR tactics
·         Identifying the root causes of political interference to manage this risk
·         Best practice management of informal miners includes both carrot and stick approaches
·         Collaborating with competing industries to calm fears and cultivate relationships
·         How ongoing intelligence makes the difference to ensure smooth-running projects and avoid sudden, unpleasant surprises
"A new cycle of mining investment in Latin America offers investors the opportunity to improve their risk management and better their chances at long-term success. We hope this whitepaper — combined with our risk consulting services — will help them along in this process," says Price. 
About Americas Market Intelligence
Americas Market Intelligence (AMI) is the premier market intelligence and advisory consultancy in Latin America, providing powerful research insights for companies to succeed in a wide range of verticals in the region, including payments, healthcare, logistics, mining, oil & gas, infrastructure, consumer goods and the industrial sector. Its customized research and advisory engagements with clients deliver data-based clarity and far-reaching strategic direction based on expert sources.
Press contact: Abel Delgado, Director of Digital Marketing, adelgado@americasmi.com
Source: Americas Market Intelligence
---
Categories: Mining, Investments
Tags: Americas Market Intelligence, Dr. Remi Piet, energy latin america, industry latin america, investing latin america, John Price, mining best practices, mining latin america, mining research latin america, risk management latin america
---