American Prius Owner is Setting New Trends in Toyota Prius Camping
Press Release
•
updated: Oct 22, 2021
WITH MORE THAN 48 STATES & COUNTING, THE BLACK JIMMY NEUTRON AIMS AT TAKING HIS MODIFIED & LIFTED PRIUS EVERYWHERE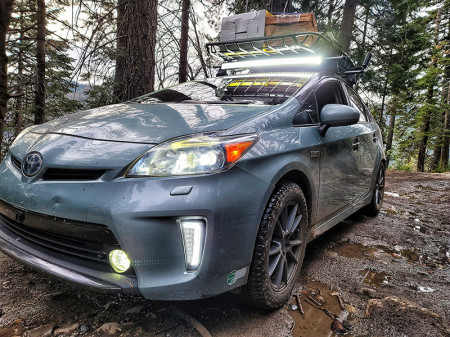 SAN DIMAS, Calif., May 7, 2021 (Newswire.com) - The Black Jimmy Neutron, aka 'black.jmyntrn' is a current IT professional and a travel enthusiast. He has proudly announced that he has taken his customized Toyota Prius to more than 48 States in the United States. His bucket list ambition was to travel the country in his Ford F-450, but everything changed with the pandemic, and he decided to take his Prius camping. With Prius Camping and Overlanding a Prius, Jimmy is simply setting new trends, and he has documented his inspiring journey on his YouTube channel.
"I wanted to travel the country in an F450 dually, and a toy hauler, with the toy garage as my office, and I would just work anywhere in the country." Said The Black Jimmy Neutron while talking about his plans. "Everything changed for me when COVID-19 happened, and the next thing you know is that I drove 48 states in 6 weeks and roughly spent $1800 in gas all while camping and Overlanding in the Prius," he added. Through his social media presence and website, Jimmy continues to help Prius owners worldwide with proper professional guidance.
In addition, Jimmy is emerging as a pioneer in the automotive enthusiasts for owning a Lifted Prius and using a Prius for off-roading and camping. Prius car camping is undoubtedly more efficient, affordable, eco-friendly, and sustainable than old-school campers and RVs, making it a number one choice for the modern-day travelers who wish to travel cross-country on their modified Toyota Prius Overlander.
Media Contact
URL: black.jmyntrn.com
Instagram: www.instagram.com/black.jmyntrn
YouTube: www.youtube.com/c/blackjmyntrn
To watch Jimmy's amazing YouTube videos, please click the links below:
www.youtube.com/watch?v=YWKEQTRO08o
www.youtube.com/watch?v=JPU5y5JbFXs
Source: black.jmyntrn.com