American Express Global Business Travel and Traxo Pilot Solution for Capturing Out-of-Channel, Pre-Trip Data
Press Release
•
Dec 6, 2022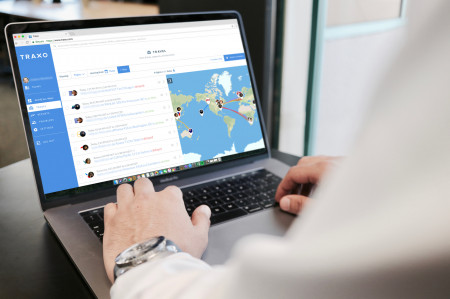 DALLAS, December 6, 2022 (Newswire.com) - Traxo, Inc., the world's only provider of real-time corporate travel data capture, and American Express Global Business Travel (Amex GBT), the world's leading B2B travel platform, are piloting a solution that aims to automatically capture out-of-channel booking data and bring it back into the travel management company's systems.
To achieve this goal, Amex GBT is using Filter technology patented by Traxo and used by companies that collectively spend more than a billion dollars a year worldwide.
"Amex GBT has the most valuable marketplace in travel with the most comprehensive and competitive content. The marketplace brings that content together with the most efficient and cost-effective travel management tools. Booking within managed channels means travelers are fully supported before, during and after a trip, while travel managers can fulfill their duty-of-care obligations. By bringing out-of-policy bookings back into the Amex GBT marketplace, travel managers can better understand what travelers are booking and improve visibility into total travel spend," said Mark McSpadden, Amex GBT's VP of Product Strategy and UX.
"Locating a traveler during a period of disruption is a risk management concern for companies of all sizes, in all industries, around the world," acknowledged Traxo CEO and Founder Andres Fabris. "When bookings are made 'off-channel,' they are invisible to the reporting tools and systems typically used by corporate travel managers. Traxo's solution automatically aggregates and parses travel bookings from any source and is the antidote to this long-standing challenge of invisible bookings for managed travel across the globe."
"The current level of disruption in the travel industry dramatically underscores the importance of real-time traveler visibility," Fabris continued. "It has become essential for modern travel managers to have a pre-trip consolidated view of employees' itineraries. Not having sight of even one trip can have significant adverse consequences. We are excited that the pilot solution is being tested by Amex GBT for a top corporate client."
About Traxo
Dallas-based Traxo, Inc., the world's only provider of real-time corporate travel data capture, allows companies to finally gain full visibility into all employee travel regardless of source, eliminate blind spots with fully automated pre-trip auditing, and ensure the health and safety of all their employees through enhanced duty of care. Founded in 2008, and a Software-as-a-Service (SaaS) business, Traxo's clients and partners include Amex GBT, EY, McKinsey & Co, ARC, Delta Air Lines, United Airlines, Lufthansa, Easy Jet, Tripadvisor, Coupa, Chrome River / Emburse, International SOS, WorldAware, ZS Associates and many more. Three recent Business Travel News Travel Managers of the Year use Traxo, and The Business Travel Magazine recently named the Company to its 2021 Tech HotList, a list of the "top tech innovators shaking up the industry." With Traxo, corporations reduce risk, improve traveler safety and maximize savings. Learn more at www.traxo.com or follow us on Twitter and LinkedIn.
Source: Traxo, Inc.