Amber Bee Creations Releases a Brand New Signature Collection of Clothing for Children
Introducing the Precious Beginnings Collection- a clothing line to celebrate the beauty of childhood.
Press Release
-
updated: May 23, 2018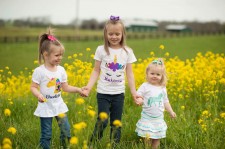 Boca Raton, Florida, May 23, 2018 (Newswire.com) - Amber Busa, owner, designer, and creator at Amber Bee Creations, is excited to announce the release of her brand new Precious Beginnings Collection. Each product is individually handmade by Amber herself. The Precious Beginnings Collection will be released on May 23, 2018 at 5 pm Eastern Standard Time. This signature collection features ready to ship and personalized clothing options for children up to the age of 6 years old. 
Throughout the last four months, Amber has been working on a rebranding process for Amber Bee Creations. Amber Bee is now known for helping mothers to have the cutest outfits for their young children so they can celebrate their little one's childhood in style. 
Thus, for the first time, Amber has created an entire product line of twenty of the most popular designs placed on baby bodysuits and t-shirts for infants, toddlers, and preschool aged children. The Precious Beginnings Collection is scheduled to go live on May 23, 2018 at 5 pm Eastern Standard Time.
The collection will be exclusively sold on amberbeecreations.com where the limited number of clothing items will sell out by the end of the season.
The children's clothing featured in this collection has been designed to celebrate the beauty of childhood with designs that convey the joy, innocence, and magic that exists during those first few formative years of being a kid. The items in this collection will celebrate the joy that accompanies the arrival of a new baby and remind parents to treasure those first few precious years when the imagination takes over and the beauty and wonder of the world is fully experienced with every new day.
The products in this collection are right in line with some of the most popular trends for children's clothing today.
The baby and toddler clothes are made with bodysuits and t-shirts comprised of a cotton and polyester blend of fabric so that the little ones will experience the softness and comfort they need and deserve. 
There are twenty designs included in this new collection. Among the twenty are thirteen products for little girls and seven products for little boys. A few examples of the various clothing designs available in the Precious Beginnings Collection are the personalized newborn "Hello world, I'm _____" bodysuits for boys and girls, the "Mommy's little man" t-shirt, the "Sleeping Glitter Unicorn" shirt, and the "6 months of fabulous" half birthday baby bodysuit for girls. 
"It's difficult to choose a favorite because I love all of my designs," Amber said. "But, if I had to pick, I'd say that I'm most proud of the personalized 'Glitter Rainbow Unicorn' shirt and the 'Two Sweet' second birthday shirt. I wish my little girl was still two years old so that she could wear that shirt because it's just that adorable!"
The Precious Beginnings Collection ranges in price from $17.99 to $25.99.
Amber is excited to welcome fellow mothers and other amazing customers to the new handmade product line collection they've been waiting for.
Source: Amber Bee Creations
---
Categories: Fashion and Apparel
Tags: baby boy clothing, baby clothes, baby girl clothing, baby outfits, baby shower gift, cool baby clothes, cute baby outfits, cute birthday outfits, first birthday outfits, personalized baby clothes, trendy baby clothes
---