Amazing Financial Traders Fair & Gala Night Will Take Place in Thailand in February 2018
Press Release
•
updated: Nov 22, 2017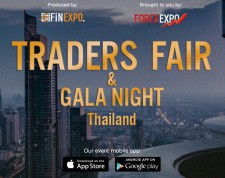 BANGKOK, Thailand, November 22, 2017 (Newswire.com) - The largest B2C event, Thailand Traders Fair 2018, organized by FINEXPO is going to take place on February 3, 2018 at Shangri-La Hotel in Bangkok. Thailand Traders Fair is about to become one of the greatest financial events covering the Financial and FX Trading Industry. It will give traders from Thailand and all over the world an amazing opportunity to build up business connections and broaden their knowledge at educational seminars.
Thailand Traders Fair is expected to gather over 30 speakers and 2,000 attendees from all over the world at one place. The one-day event will include entertaining magic shows, lucky draws with fantastic prizes, live performances and Gala Night party. Each registered user will be provided with free access to the world of trading and education.
The event agenda is in line with the latest trends and developments of the industry. Visitors will get the opportunity to meet the best trading experts as well as the best trading companies, banks, money brokers.
The keynote speakers will include world-famous trader Mario Singh, CEO at Fullerton Markets and author of two best-selling books who will be sharing his personal secrets to trading success and enlightening everyone on how to boost their profits, alongside such speakers as Cornelius Luca (Founder of LGM, LLC), Satja Dhavehutsadin Na Ayuthaya (Coach Zhulong at Forex Bangkok), Kevin Couto (USG Business Director Financial Lecturer), Atilio Bertolidi (USG Australia Chief Forex Lecturer), Phitsanukhom Chaiyavet (CEO of Thai Fx Elite), Marrck Sattahakarn Chuenkomol (CEO of Forex Bangkok), Chanachat Jaikengdee (the owner of Forex Trader Profits), Feungtot Pativetwanakit (Founder of Trader's Way), Keng Chokchai Saekow (Management Team and Coach of FXPredator Forex) and others.
The list of topics of presentations and workshops includes best forex strategies, cryptocurrencies, global macro trading and many others. Participants will be able to meet and communicate with each other, deepening their knowledge and exchanging diverse experiences in the industry. The meetings and workshops are going to be helpful and insightful, while the speakers will demonstrate their profound knowledge of financial markets, sharing their priceless ideas and giving advice on the major trends and directions in the industry. In order to become a participant of the event, one must complete the registration procedure on the official website.
FINEXPO inc. is the first and most influential financial event and fair producing company in the world since 2002 and its history of the organized events counts over 30,000 traders, investors and financial advisers with more than 3,000 financial companies and brokers on Stock, Option, Forex, Bond and Forward markets. That is why Thailand Traders Fair is expected to become one of the greatest financial trading events in Asia.
Media Contact Information
Anastasia Babij
+44 207 100 2174
asia@finexpo.org
Source: Finexpo inc.
Additional Links