Altumatim Launches EMMETT, a Revolutionary Conversational AI for Legal and Investigatory Matters
Press Release
•
Mar 8, 2023
EMMETT enables legal professionals and investigators to quickly and accurately identify critical information with unparalleled efficiency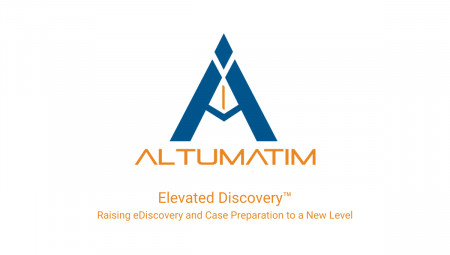 BIRMINGHAM, Mich., March 8, 2023 (Newswire.com) - Altumatim, an emerging legal technology company, is proud to announce the release of EMMETT, a cutting-edge conversational AI explicitly designed for legal and investigatory matters, including those that involve confidential or sensitive information. EMMETT pioneers a new generation of AI-powered ediscovery technology that enables legal professionals and investigators to quickly and accurately identify the information they need to build compelling stories and win cases. EMMETT leverages the power of multiple Large Language Models (LLMs) and a reinforcement learning algorithm to perform complex legal tasks that have never been seen before.
"Our vision to create a virtual assistant for the legal profession that converses with you, comprehends your story, and curates the best evidence to support your narrative has finally been realized," said CEO David Gaskey. "Lawyers and their legal teams can simply tell EMMETT their story and it will automatically find the documents they need from the ESI provided, generate a storyline of events, and create topics regarding the legal issues they are facing. It took us years of passionate dedication to get to this point and while we are thrilled with the results, we're just getting started."
With Altumatim's advanced algorithms, EMMETT quickly and accurately provides deep insight into complex issues, events, relationships, and themes otherwise buried within large datasets. It simplifies complex discovery and investigatory projects, cutting through the noise while reducing the risk of errors and omissions. Allaying the fear of overlooking key data is one of the critical benefits of the ALTUMATIM platform.
EMMETT makes it easier than ever for legal professionals to handle their workflows. By combining intuitive usability with powerful capabilities, EMMETT simplifies even the most daunting tasks, including:
Early case assessment,
Client meeting preparation, and
Witness testimony preparation.
EMMETT's efficiency, accuracy, and versatility make it an essential tool for any legal practitioner.
Altumatim also understands the importance of confidentiality and security. The entire platform includes robust security features, protecting confidential or sensitive information throughout the discovery or investigation process.
The ALTUMATIM platform, including EMMETT, represents a significant advance in legal technology. This platform incorporates the most recent neural network engine, inference engine, and natural language processing technologies, providing access to levels of insights that previously had been unobtainable. With EMMETT, lawyers and other legal professionals and investigators can now quickly and accurately identify critical information, helping them build more credible cases with greater confidence.
Altumatim is hosting a product launch webinar on March 15 from Noon to 12:45 p.m. ET. Register here to join the webinar and discover how Altumatim empowers legal teams and helps litigators craft the best story: http://bit.ly/3mz3PjK.
Altumatim will showcase EMMETT during Legalweek from March 20 through March 23, 2023, in New York City. Stop by Booth 4002 — Lounge AH2 to learn more or contact us to schedule a meeting: sales@altumatim.com.
To learn more about EMMETT and Altumatim, visit www.altumatim.com.
About Altumatim
Altumatim is a cutting-edge technology company that develops legal and investigatory solutions. Founded in 2022 by intellectual property attorney David Gaskey and data scientist Vasudeva Mahavishnu, Altumatim aims to provide high-quality and innovative technology to assist legal professionals achieve the best results in their matters.
Powered by Attorney Intelligence™, Altumatim is an all-in-one platform for discovery that seamlessly integrates structured and unstructured data into actionable insights. Altumatim's patent-pending AI technology, embedded in every phase of the eDiscovery process, learns from the user and quickly brings the most relevant evidence to the surface.
Law firms, corporations, and government agencies trust their matters with Altumatim. For more information about Altumatim, visit our website at www.altumatim.com or follow us on LinkedIn.
Source: Altumatim