Altaro Unveils VM Backup Version 7 with Unique Augmented Inline Deduplication & Support for Windows Server 2016
The new version also includes Altaro's boot from backup, a new offsite server and more.
Press Release
-
updated: Jan 17, 2017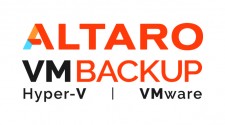 London, UK, January 17, 2017 (Newswire.com) - Altaro has released Altaro VM Backup V7, a faster and lighter upgrade to its flagship Hyper-V and VMware backup solution, which now supports Windows Server 2016 and includes several highly-requested features including unique Augmented Inline Deduplication technology and boot from backup.
Altaro's unique Augmented Inline Deduplication delivers faster backups and restores on local and offsite locations by making sure that only new data is transferred to the backup or offsite location. This augmented inline deduplication technology solves a common problem found in conventional backup solutions that deduplicates data after the transfer process. With Altaro VM Backup v7, that process happens before the data is transferred. This process not only provides quicker backups, but it also reduces the amount of storage needed to store said backups significantly more than any other solution on the market today.
"Version 7 is an important milestone at Altaro," said David Vella, CEO of Altaro. "Not only does it fully support Windows Server 2016, our new and unique Augmented Inline Deduplication technology offers our customers the best storage savings in the industry."
Boot from Backup is another innovation in Altaro VM Backup V7 that enables users to instantly boot any VM version from the backup location without affecting integrity of the backup. If disaster strikes, the VM can be booted up instantly from the backup drive with minimal downtime, while the VM is restored back to the Hypervisor in the background. A simple VM reboot completes the recovery process and preserves any changes done while the VM was booted.
For more information about Altaro VM Backup V7, visit altaro.com/vm-backup or send an email to info@altaro.com.
About Altaro
Altaro is a fast-growing developer of Altaro VM Backup, an easy to use backup and recovery solution built specifically for small and mid-market businesses and is trusted by over 30,000 customers worldwide.
Altaro has grown rapidly over the years with their flagship solution Altaro VM Backup, which gained traction as the natural choice for Hyper-V and VMware VM backups.
For more information on Altaro VM Backup, please visit http://www.altaro.com/vm-backup/ or contact info@altaro.com.
Press Contact
Source: Altaro Software
Share:
---
Categories: Business Technology, Computers and Software, Virtualization, Information Technology
Tags: altaro, hyper-v backup, virtualization, vm backup
---