Alsco Tampa Branch Supports Developmentally Disabled in Local Community
Press Release
•
updated: Feb 4, 2019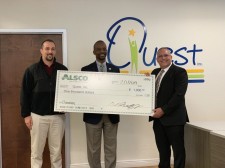 TAMPA, Fla., February 4, 2019 (Newswire.com) - In an effort to help those with developmental and intellectual disabilities have more opportunity for a full life, the Alsco Tampa branch recently made a donation to support Quest Inc. For over 50 years, Quest has supported central Floridians with developmental and intellectual disabilities by offering choices and opportunities to live, learn, work and play.
Quest offers a wide range of services and support for individuals with developmental and intellectual disabilities. The company not only provides a safe place for these individuals to call home but also offers quality long-term care, education, therapy, early intervention services for children and employment for youth and adults.
Each day, Quest serves more than 1,000 people with disabilities — both young and old — achieve their dreams of going to school, having a job, living independently and experiencing summer camp. They rely on private support through grants and donations of time and money.
The Alsco Tampa branch team has been a long-time business partner of Quest and was delighted to be able to support its effort as well. "I think Quest's mission can be best summarized by a famous quote from Mahatma Gandhi: 'The true measure of any society can be found in how it treats its most vulnerable members,'" says Tampa branch manager Gilbert Rodriguez.
About Alsco:
​Alsco is a fourth-generation family owned and operated business, founded in 1889, that was recognized by the prestigious Hohenstein Institute for having invented the linen and uniform rental industry. Celebrating 130 years of business, Alsco provides linen and workwear rental services to customers that include restaurants, healthcare, automotive industry and industrial facilities. With over 180 locations and more than 20,000 employees, Alsco provides world-class service to over 355,000 customers in 14 countries. Learn more at http://www.alsco.com. Alsco believes in giving back to the communities we serve through our Steiner Foundation. We also create internship opportunities, implement environmentally friendly processes and sponsor community-oriented events.
Media Contact:
​Patricia J. Almand
VP Project Development
UMG Advertising LLC for Alsco
972-810-4000 Office
patricia@umgaus.com​
Source: Alsco