Alpha Tau Medical Secures Second Funding Round to Treat Solid Tumors With Alpha Radiation
Press Release
•
updated: Jul 18, 2017
Showing the ability of Alpha DaRT to effectively and safely destroy solid tumors, Alpha Tau Medical raises more capital than planned.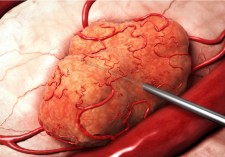 New York, United States, July 18, 2017 (Newswire.com) - Alpha Tau Medical Ltd. has raised 20% more capital than planned for its Alpha DaRT cancer treatment. The funding will be used to further develop the Alpha DaRT as a highly potent and conformal treatment for 11 different types of solid tumors.
The preliminary results of its first clinical study proved that Alpha DaRT has the ability to effectively destroy solid tumors with no systemic adverse events. The Alpha DaRT treatment was done under local anesthesia, did not require any special shielding nor capital equipment and was carried out for a duration of about 60 minutes. After treating the first four patients, a safety report was submitted to summarize the results of the treatment. The clinical study, which is led by Aron Popovtzer MD from Rabin Medical Center, Israel, tests the safety and efficacy of Alpha DaRT in patients with Squamous Cell Carcinoma (SCC) of the Skin and Head and Neck.
Alpha Tau Medical will soon start a similar study in Italy and is submitting research protocols for additional indications in Italy, Romania, France, and Germany. Alpha Tau Medical is seeking to further initiate its first clinical study in the USA.
The Alpha DaRT Cancer Treatment
Alpha particles are known to be highly destructive to cancerous cells. However, the short range of Alpha particles in tissue had made them rare candidates for treating solid tumors. Alpha DaRT (Diffusing Alpha-Emitters Radiation Therapy) enables the use of Alpha radiation for treating solid tumors in a highly potent and conformal mode.
About Alpha Tau Medical LTD.
Alpha Tau Medical Ltd. is an Israeli medical device company that focuses on research, development, and commercialization of Alpha DaRT for the treatment of solid cancer. The Alpha DaRT technology was developed since 2003 by Prof. I. Kelson and Prof. Y. Keisari at the Tel Aviv University. Preclinical trials on over 6,000 animals in numerous studies found the technology to be effective and safe in various tumor indications and anatomical areas. The findings were published in 12 papers in peer-reviewed scientific journals. Today, the company is running its first clinical trial.
Media Contact:
Amnon Gat
+972 54 975 6276
amnon@alphataumedical.com
Source: Alpha Tau Medical Ltd.
Related Media
Tags