ALPHA Partners With Dogepalooza to Bring Live Entertainment to a Worldwide Audience Promising a Visually Stunning and Immersive Experience
Press Release
•
Apr 25, 2023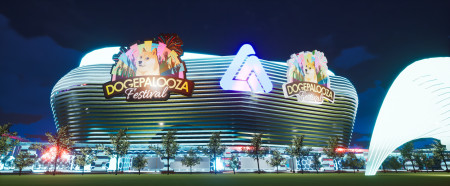 LAS VEGAS, April 25, 2023 (Newswire.com) - Dogepalooza LLC, the Entertainment and Media Company known for producing music festivals that benefit charities and for their support of Dogecoin, signed a deal to produce and host major events in ALPHA City Metaverse which will be held in a massive arena for up to 300,000 individuals at the same time. They are also building a theme park, an entertainment and business district, along with community and residential areas.
Built on the Unreal Engine 5, ALPHA brings together social and business aspects of the Metaverse, putting this group of projects well ahead of the curve. ALPHA will also be home to night clubs, shopping malls, car dealerships, virtual office space, in-world games, pro golf tournaments, pro boxing matches, dating services, "meta-weddings" and many other luxury services and amenities.
The founders offered enthusiasm with their commentary on the partnership between ALPHA and Dogepalooza.
"This cooperative agreement will take ALPHA and Dogepalooza into the lead among metaverses. The visionary developer and creator of ALPHA, Jorge Guinovart has built all this on The Unreal 5 Engine. This is considered to be the best tech available and will continue to grow and improve with its user base as it spans the globe. We speak everyone's language and we try to make it easy. We are currently planning events in Las Vegas, Miami Beach, LA, Manhattan, and The Hamptons."
-Mark Anthony Posner of Posnerland LLC
When asked for his thoughts on the high-profile partnership, the Dogepalooza founder conveyed confidence and excitement for the future.
"ALPHA is a game-changing immersive way to experience entertainment. This technology allows people to connect and enjoy shared experiences in the metaverse together with friends, family and business associates - no matter where they are on the globe. If you're not in ALPHA, you're in the wrong Metaverse."
-Greg Humble, Dogepalooza Founder
Numerous brands, sponsors, partners and award-winning global artists already affiliated with Dogepalooza will also be joining the Alpha Metaverse. Stay tuned for upcoming festivals, events, projects and product releases.
For more information:
-Mark Anthony Posner of Posnerland LLC
-Greg Humble, Dogepalooza Founder
Source: ALPHA City Metaverse and Dogepalooza
Related Files