Alpha Genesis Warns of Critical Shortage of Research Primates
Press Release
-
updated: Nov 22, 2019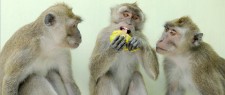 YEMASSEE, S.C., November 22, 2019 (Newswire.com) - Primate Research Organization Alpha Genesis today announced that it was now reserving primates for North American contract research organizations in the face of critical shortages, exacerbated by ongoing trade tensions between the United States and China. 
The program allows pharmaceutical organizations, academic researchers, and qualified government agencies to reserve primates in anticipation of future research use. "The program takes advantage of the inherent competitive advantage in being a domestic nonhuman primate breeder and resource provider," according to Dr. Greg Westergaard, Company President and CEO. "Several of our preferred customers have reserved primates for use through 2022. The program allows customers to purchase animals, which remain theirs in advance of anticipated research needs. The program also allows customers to screen or genotype their monkeys for use in highly specialized research applications."
The NIH-funded network of National Primate Research Centers maintain large numbers of primates but primarily for their own internal use. Non-government organizations rely on importing primates from overseas, with most research primates coming from China. Reliance on imported primates has had the unintended consequence of making the United States primate supply extremely vulnerable to international political tensions, including President Trump's tariffs, which are expected to hit the industry hard in the coming months. In addition, China and other foreign countries have made extensive investments in their own internal research infrastructures, so these countries are using these animals internally and exporting fewer and fewer primates for use in the United States. Costly quarantine, mandated by the Centers for Disease Control, as well as uncertain quality controls, further drives up costs and risks from bringing in primates from abroad. "The writing is on the wall, and anyone thinking this trend will reverse is making a serious mistake in judgment," states Westergaard.
Alpha Genesis, on the other hand, maintains large domestic breeding colonies of specific pathogen-free (SPF), nonhuman primates ideal for use within the United States. Clients have the opportunity to purchase and maintain their own research populations using Alpha Genesis' award-winning AAALAC-Accredited facilities. Buying U.S.-bred animals directly from Alpha Genesis and maintaining them at our facilities makes perfect sense for the vast majority of American and Canadian customers. Westergaard adds, "The response to this program has just been amazing, and we are proud to do our part in advancing human and animal health and medical treatment worldwide."
About Alpha Genesis
Alpha Genesis is a leading life sciences organization that provides primates and primate research services worldwide. With a mission to improve health and improve lives, Alpha Genesis delivers world-class solutions to the primate research community. To learn more about Alpha Genesis, visit www.alphagenesisinc.com, and to learn more about the AGI Primate Research Center, visit www.primateresearch.com.
Media Contact: Info@alphagenesisinc.com
Source: Alpha Genesis, Inc.
Share:
---
Categories: Medical Research
Tags: medical, primate, research
---