Alpha Genesis Primate Center Joins Coronavirus Battle
Press Release
•
updated: Feb 2, 2020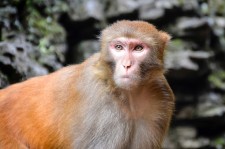 YEMASSEE, S.C., February 2, 2020 (Newswire.com) - ​​​​​​​​​​​The Alpha Genesis Primate Research Center is utilizing its considerable resources to develop a much-needed vaccine to battle what looks to be an emerging pandemic. Media outlets today report that the coronavirus has claimed its first victim outside China, a 44-year-old Chinese man in the Philippines, as the death toll from this yet-to-be-contained outbreak surpassed 300 and the number of people infected approached 30,000 worldwide. The rapid spread and devastating nature of the coronavirus have led the World Health Organization (WHO) to declare a public health emergency.
Further complicating the coronavirus battle is the limited availability of research primates necessary for vaccine development within the United States. As previously reported, U.S. scientists are almost entirely dependent upon China as a source of research monkeys, which were in critically short supply even prior to the recent viral outbreak. Now, these scientists face an even greater challenge as the supply of Chinese-sourced primates has been suspended indefinitely due to fears of further spreading the deadly disease.
Alpha Genesis, Inc. (AGI) maintains the largest commercial breeding colony of research primates outside of Asia and provides primate research subjects and services worldwide. The AGI Primate Research Center has experience in vaccine development dating back over 50 years and has worked with noted scientists in both public and private institutions on a variety of vaccine models and applications. The company is now lending its considerable resources to combat this latest viral menace. According to Dr. Greg Westergaard, Alpha Genesis President and CEO, "The coronavirus threat is very serious, and the danger to the public quite real. Rapidly deploying the necessary resources to combat this outbreak will save lives, and prevent further human suffering."
The Alpha Genesis Primate Research Center is the designated Contract Research Organization (Primate CRO) of Alpha Genesis Incorporated (AGI). The AGI research team seeks to substantially improve human and animal health worldwide. In partnership with government organizations, private foundations, and private industry, Alpha Genesis scientists conduct studies seeking breakthrough discoveries leading to improved treatments and cures. The highly regulated study of nonhuman primates is essential to medical progress worldwide. With increased international competition for nonhuman primate research and development resources, Alpha Genesis represents a unique and highly effective U.S.-based resource for conducting such work.
For more information on this program, please send a message to the Research Director at info@alphagenesisinc.com.
About Alpha Genesis
Alpha Genesis is a leading life sciences organization that provides primates and primate research services worldwide. With a mission to improve health and improve lives, Alpha Genesis delivers world-class solutions to the primate research community. To learn more about Alpha Genesis, visit www.alphagenesisinc.com, and to learn more about the AGI Primate Research Center, visit www.primateresearch.com.
Source: Alpha Genesis, Inc.