Alpha Aromatics Has the Solution to Reduce Ethanol Odors in Hand Sanitizers
Press Release
•
updated: Jun 9, 2020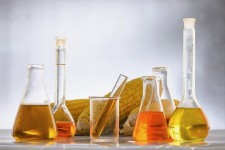 PITTSBURGH, June 9, 2020 (Newswire.com) - What can manufacturers of ethanol-based hand sanitizers do about bad odor? Alpha Aromatics' master perfumers have developed a number of additive solutions to reduce the offensive smells that come from ethanol, leaving the hand sanitizer with a pleasant and clean scent.
"After recently being approached by many manufacturers who sought our help in creating new and effective hand-sanitizer fragrances using ethanol due to the shortage of isopropyl alcohol, we addressed the problem of bad odors and found several workable solutions," says Bryan Zlotnik, COO of Alpha Aromatics. "Our team developed these additives, which reduce the odors associated with ethanol and yet, at the same time, leave the hand sanitizer with a pleasant, clean scent when applied to the skin. We went even further and created a selection of fragrances to add to the solutions, keeping in mind not only personal preferences but also the fact that ethanol's smell can vary and is dependent on its natural source."
Depending upon what natural source is used to make the ethanol, Alpha Aromatics has a vast array of fragranced additive solutions that will allow a sanitizing brand to project an image of clean as opposed to one of dirty.
These new odor-control solutions include additives that aid in the dramatic reduction of odors that occur naturally from the source of ethanol, namely, raw materials such as corn, sorghum, barley, sugar cane, and sugar beets. Ethanol can also be a byproduct of grasses, trees, agricultural and forestry residues such as corn cobs and stocks, rice straw, sawdust, and wood chips.
Zlotnik explains, "Producers of hand sanitizers can utilize ethanol for their hand sanitizer products. They have only to send out small amounts of their samples to our perfumers who can analyze the product, assess the correct solution and then quickly supply several options for a fragranced odor-control solution that will be suitable to a particular brand. While this new additive may not be a cure-all panacea, it will certainly aid in curtailing the deadly spread of this terrible virus."
Contact Alpha Aromatics at +1 (412) 252-1012 or internationally at +1 (800) 295-5261 or submit a written inquiry.
Source: Alpha Aromatics