Alms-Giving Abounds at Rounds Bakery
Press Release
•
updated: May 31, 2019
Local restaurant gives back to the community in more ways than one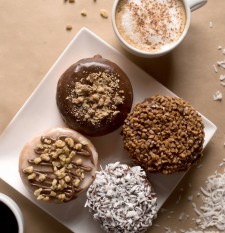 RENO, Nev., May 31, 2019 (Newswire.com) - Rounds Bakery embraces their community promise through and through. A dedicated steward to the Northern Nevada area and the environment, and on the heels of this past Earth Day, Rounds Bakery announced several philanthropic initiatives, including a new teaching kitchen, solar panel installation and community giving campaign.
Working with Urban Roots, co-owners Sean Cary and Anton Novak launched a program encouraging children to learn where their food comes from, through gardening and preparation in a teaching kitchen.
"Our hope is to get kids in the dirt, learning to grow a garden and learning to eat what they grow. If we can teach our kids the value of the Earth and what it can provide for us, if we treat it with care, we will have a very bright future, indeed," Cary said.
Cary and Novak also signed a contract with GoSolar to install solar panels on the new 12,000-square-foot kitchen. "The panels will generate over 33 kilowatts of energy every month. We will be the only bakery and food manufacturer in Nevada selling bagels baked by the sun," Carry added.
As Rounds Bakery undertakes this significant investment in the future, they encourage the community to support Urban Roots through "Rooting for You," a community giving campaign. They are also collecting donations in the Reno-based bakery.
To date, Rounds Bakery has donated more than $100,000 in charitable donations and 35 tons of food to those in need. They believe in a no-waste policy and giving back. As a presenting sponsor for the Aces Education Days, the team at Rounds Bakery believes education and sustainable food go hand in hand.
"You can't learn on an empty stomach, so we aim to feed minds and bellies," Carry said. "Let's continue the charge as a community and set ourselves up for a bright, full future."
For more information please visit roundsbakery.com or facebook.com/roundsbakery.
Urban Roots is founded on the idea that the garden is a powerful tool for improving academic instruction, developing healthy habits and sowing a respect for the environment. In order to realize our mission of growing healthy minds, bodies and communities, we provide school and garden-based opportunities for teachers, students, families and partnering organizations.
Source: Rounds Bakery
Related Media
Additional Links