Alliance of Comprehensive Planners and the Kinder Institute of Life Planning Announce 2018 Conference Collaboration
ACP's tax-focused comprehensive financial planning process pairs nicely with Kinder's holistic life planning approach
Press Release
-
updated: Jul 19, 2018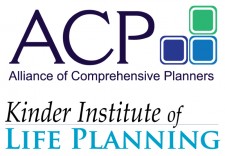 WILMINGTON, N.C., July 19, 2018 (Newswire.com) - The Alliance of Comprehensive Planners (ACP), a community of tax-focused financial planners who provide comprehensive planning strategies for their clients on a fee-only retainer basis, and the Kinder Institute of Life Planning, an organization that provides workshops, intensive trainings and consulting services to financial advisors worldwide, have teamed up to provide an interesting swath of content for the 2018 ACP Annual Conference.
On Nov. 5 and 6, 2018, as a pre-conference option being offered the two days immediately preceding the ACP Annual conference, George Kinder will be leading his signature "Seven Stages of Money Maturity" workshop. "This workshop trains advisors to help their clients find freedom and financial security by developing clarity and ease around their relationship to money," Kinder said. "Advisors will learn how to improve their listening, relationship, and inspirational skills. We will discuss the psychology of money and provide a model for understanding and developing client relationships as well as one's own relationship to money."
ACP member Frankie Corrado, CFP®, who has participated in Kinder Institute training sessions and is pursuing the Registered Life Planner (RLP) designation, enthusiastically recommends the Seven Stages workshop. "George Kinder's Seven Stages workshop was without a doubt an inflection point in both my life and career. A life plan is more than just a financial plan," Corrado said. "The Kinder training I received has helped me change my approach in my day-to-day interactions with not just my clients but my family and friends. The Seven Stages workshop really highlights the human dimensions of money such as self-sabotaging behavior, inappropriate risk-taking, lack of interest in executing a plan, and goal confusion. As a result, I now see how to more fully integrate life goals with financial realities and inspire the client to action. I can't say enough how important of a stepping stone to my improved career and life the Kinder program has been."
"Financial Life Planning is the future of the advisory profession," Kinder said. "And this workshop is one step toward developing a completely fresh approach to engaging clients, one that focuses first on the person, not their portfolio. Of course, we need to develop solid financial strategies for our clients. But first, we must understand what money is for. If we truly connect to a client's deepest dreams and aspirations and can fashion plans in their service, we will earn clients for life. Financial Life Planning will differentiate you from the crowd and help build unbreakable trust with your clients."
The Kinder Institute's proven method is used by thousands of successful advisors worldwide. This Training provides 10.00 CEUs for CFP®s and is eligible for CPD Points 17.00 hours. More information is available here: http://2018.acplanners.org/kinder-2-day-workshop.
Being an ACP Member is not required to participate in this special 2-Day Kinder Workshop. Furthermore, anyone participating in the Kinder workshop may also stay to attend in the 2018 ACP Annual Conference at the ACP member rate.
2018 ACP ANNUAL CONFERENCE
This year's annual ACP conference will be held Nov. 6-9, 2018 at the Miami Marriott Biscayne Bay ("the Bridge to Everything Miami"). The Marriott is in the heart of downtown at the intersection of the Miami Arts and Design districts. Bright, airy rooms and suites offer restful views of the Biscayne Bay Marina and downtown Miami from private balconies.
George Kinder, founder of The Kinder Institute of Life Planning, sales and training expert Rob Jolles, and Marie Swift, founder of Impact Communications, will keynote at this year's event. While the full agenda is not yet available, preliminary information is available here: http://2018.acplanners.org/home
 Companies interested in sponsoring the ACP Annual Conference will find more information here:
http://2018.acplanners.org/sponsors
2018 COMPETITION FOR STUDENTS
ACP also recently announced details of the second annual ACP Tax-Focused Case Study Competition. This competition is designed exclusively for undergraduate students in personal financial planning programs registered with the CFP Board of Standards. Each competing student will review the hypothetical scenario provided, including relevant background information, financial data and a hand-written tax organizer, then execute the tasks stated at the end of the case study packet. More information is available here: ACP Case Study Competition Announcement.pdf
ABOUT THE ALLIANCE OF COMPREHENSIVE PLANNERS (ACP)
The Alliance of Comprehensive Planners (ACP), formerly Alliance of Cambridge Advisors (ACA), is a community of tax-focused financial planners who provide comprehensive planning strategies for their clients on a fee-only retainer basis. ACP members are required to maintain the CFP® or CPA/PFS (or equivalent) designation, complete ACP's rigorous training program, and meet some of the highest continuing education requirements in the industry. To learn more about this fiduciary network or to find a certified ACP member, visit www.ACPlanners.org.
###
Leesy Palmer or Marie Swift
Impact Communications, Inc.
800-974-7753
ImpactMediaManager@ImpactCommunications.org
Source: Alliance of Comprehensive Planners
Share:
---
Categories: Personal and Family Finances, Banking, Finance, Insurance
Tags: acp, alliance of comprehensive planners, fee-only, fiduciary, kinder institute, life planning, retainer, tax-focused financial planning
---