Allegro Home Delivery Supports Small Businesses and Helps Growth in Local Communities
Press Release
•
updated: Sep 20, 2021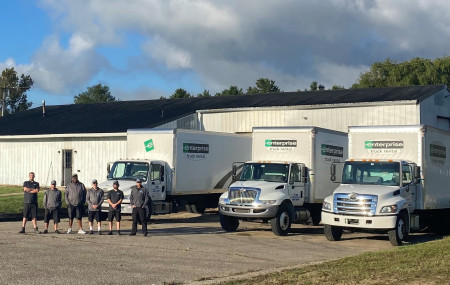 MINNEAPOLIS, September 20, 2021 (Newswire.com) - Allegro Home Delivery recently partnered with QTech Delivery Services out of Michigan to expand QTech's operations and add vital growth to their existing line of business and small community.
As Allegro Home Delivery expanded their dedicated commercial delivery operations into Michigan, they conducted significant research that helped identify this small group of drivers whose customer satisfaction scores were performing well above industry average. Unfortunately, as sub-contractors, they were getting buried under layers of other names. Allegro Home Delivery partnered with QTech to help them purchase their own warehouse, add additional trucks to their fleet, and to provide higher quality services to new clients in their market using their teams. This project included revitalizing a warehouse and adding jobs to the local town. Everyone from the local librarian to city tradesmen stopped by to say hi and give their support while Allegro was in town.
"Our company believes that we have an obligation to our customers and our communities to do our part to revitalize small communities and support our customers with delivery teams from the areas they support," said Andrew Zirbel, Chief Operating Officer of Allegro Home Delivery. "Whenever possible, we partner with local struggling business to expand their services, supply more work they can depend on, and support their small businesses with planning and strategy. Thank you for being part of the Allegro family, QTech!"
About Allegro Home Delivery: Allegro Home Delivery is a nationwide logistics and transportation company based out of Minneapolis, MN. They are focused in the middle and final mile home delivery market. Their methodology is taking ownership of the product from origination until it is in the customer's home. Retailers, distributors, and manufacturers rely on them to orchestrate the fastest deliveries, with the most comprehensive in-home experience. Allegro Home Delivery specializes in high-speed, nationwide, and last-mile home delivery programs, with an emphasis on white glove, installation, and assembly.
Tawn Comp
Marketing Manager
ACS Logistics Holdings - Allegro Home Delivery / DataTrec
651.209.0032
Tawn.comp@allegrohomedelivery.com
https://allegrohomedelivery.com
Source: Allegro Home Delivery