All-Star Athletes Across Sports Are Seeing Injury Recovery Without Surgery or Medication Using SAM 2.0 Wearable Ultrasound
Press Release
•
updated: Dec 9, 2020
A growing number of sports organizations are raving about the healing potential of Sustained Acoustic Medicine (SAM), its impact on recovery times, and how it's helping athletes get back in the game after injury.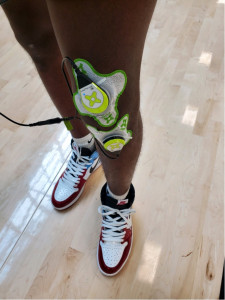 TRUMBULL, Conn., December 9, 2020 (Newswire.com) - ZetrOZ Systems, developers of the Sustained Acoustic Medicine (SAM) wearable ultrasound, an FDA-cleared bio regenerative medical device supported by the National Institutes of Health, announces that the SAM family of medical ultrasound device has received positive reviews and feedback from professional athletes across a number of different sports and disciplines. The medical device's ability to provide relief from muscle injury and pain showcases SAM's ability to deal with the physical rigors of professional sports and is perfect for home use applications.
Here's some of the all-star lineup across professional sports sharing their experiences with SAM 2.0 long-duration ultrasound treatment device:
I use SAM ultrasound to recover and keep me at my best." - Allie Long, professional soccer player for the U.S. Women's National Team and Reign FC
"Because of SAM, we were able to progress our players through our rehab exercises without discomfort and progress them back into playing unrestricted within a few weeks." -- Ryan Bitzel, Physical Therapist for the Seattle Mariners
"Looking forward to starting a new season with our Platinum Partner, SAM ultrasound." -- Professional Football Athletic Trainers Society
Organizations including the Connecticut Whale (National Women's Hockey), Team USA Softball, Team USA Field Hockey and former professional athletes including former NFL star Brian 'The Boz' Bosworth, are utilizing SAM daily ultrasound treatment to break the chain of pain that prevents athletes from performing at their best.
"The effectiveness of the product speaks for itself," says Dr. George Lewis, president and CEO at ZetrOZ Systems. "Individual athletes and athletic organizations are seeking us out because of the effectiveness of long duration ultrasound technology and its ability to provide healing relief without the need for surgery." "With over 15-years of research supported by the United States federal government, SAM is becoming the go-to-non-surgical-treatment for thousands of sports medicine doctors."
To learn more about ZetrOZ Systems and its SAM line of products, visit samrecover.com.
About ZetrOZ Systems
ZetrOZ Systems is an FDA cGMP and ISO 13585 medical technology company headquartered in the southern coastal region of Connecticut. The organization also has manufacturing facilities across the United States. ZetrOZ Systems produced UltrOZ®, sam®Sport and sam®Pro 2.0 to provide safe and effective treatment options for prevalent conditions such as arthritis. Learn more at zetroz.com and samrecover.com.
Media Contact:
Ledora Brown
ledora@newswire.com
Source: ZetrOZ Systems