All Hands on Deck for Pirate Jonny's, a 'Fresh From Florida' Company, Now Found in Select Publix, Winn Dixie and Local Specialty Stores
Florida-based small business Pirate Jonny's is known for producing a unique blend of healthy and easy-to-use Caribbean rubs, seasonings and sauces. Providing a Floribbean Flair, Pirate Jonny's can now be found in the major retailer, Publix Supermarkets.
Press Release
-
updated: Jan 29, 2018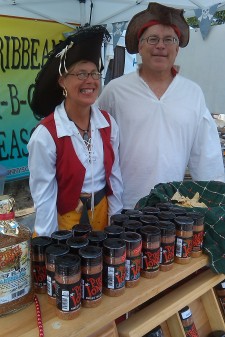 CLEARWATER, Fla., January 29, 2018 (Newswire.com) - Pirate Jonny's is proud to announce that the largest employee-owned grocery chain in the U.S., Publix, has brought aboard our most-loved and best-selling seasoning blends: our Sweet Island Rub, the Jamaican Jerk seasoning and the Scorched Pirate Rub (http://www.publix.com/p/RIO-PCI-543140).
"We were so pleased and excited to finally be able to fulfill our customers' requests of many years by joining the Publix family," said Jonathan and Terri Toner, co-owners of Pirate Jonny's. Pirate Jonny's rubs and seasonings can be found at select Publix stores at locations in Florida, as well as Tennessee, Atlanta, Georgia, South Carolina and North Carolina. Pirate Jonny's famous Garlic Island Sauce has been promoted to Winn Dixie's Central Florida stores, Alabama and Georgia in the Main Condiment Aisle. All specific store locations can be found at https://piratejonnys.com/find-us-retail-store-locations-and-markets/.
We were so pleased and excited to finally be able to fulfill our customers' requests of many years by joining the Publix family.
Pirate Jonny, aka Jonathan Toner, responded to customers' requests by providing seasoning blends, which make cooking easy, delicious and healthy without MSG or gluten. Pirate Jonny's products help create versatile and flavorful dishes to suit any palette, and as a bonus, are low in sodium, as well as appealing to vegan or vegetarian preferences.
Since receiving awards from the National BBQ Association, the Hot Pepper awards, the Scovies, as well as many other local awards, a full product line of 12 different dry rubs and seasonings, four BBQ sauces and two mermaid-emblazoned hot sauces have been created. All of the creations are also available in bulk sizes for the restaurant and food service industry.
Pirate Jonny's specialty blends, which are loved by all ages, create not only delicious appetizers and salads but make for easy cooking on the stove or crockpot and of course for Barrr-B-Que. These creations are also now found in a 130-page Caribbean-Cajun-Cuban food cookbook called "Navigating the 3C's" to provide easy instructions for every facet of a meal.
You can find Pirate Jonny's products on sale in many stores now through February for the upcoming NFL championship 2018 season.
Another day at Flavor Beach!
Find more information on Pirate Jonny's products, contact: Terri Toner, terri@piratejonnys.com, cell 813-376-9185, Office 1-866-402-0259 or by visiting www.piratejonnys.com.
Source: Pirate Jonny's Caribbean Rubs, Seasonings & Sauces
Share:
---
Categories: Food and Beverage Services, Cooking and Entertaining, Local News, Restaurants, Bars, and Catering, Shopping, Resorts
Tags: Garlic Island BBQ sauce, gluten free, jamaican jerk seasonings, msg free, Pirate Jonny's, publix seasonings, scorched pirate rub, seasonings florida, sweet island rub, winn dixie garlic island sauce
---
Related Files
Additional Links