ALKEME Acquires Daugherty Insurance Group
Press Release
•
Jun 13, 2023
Acquisition Expands ALKEME's Property and Casualty footprint in Texas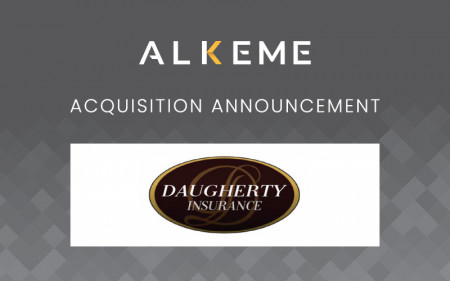 LADERA RANCH, Calif., June 13, 2023 (Newswire.com) - ALKEME, a Top 50 Insurance Brokerage, announced the acquisition of the Daugherty Insurance Group, a Sugar Land, Texas-based full-service insurance agency.
For over three decades, Daugherty Insurance Group has been focused on serving their loyal customers throughout Sugar Land and surrounding areas with a wide variety of business, home-auto, life and health insurance solutions to individuals, families and businesses.
"We are excited about adding Daugherty Insurance Group into the ALKEME family," said Curtis Barton, CEO of ALKEME. "Daugherty has been a beacon of trust for their customers for over 30 years, and our shared focus of providing exemplary customer service and affordable insurance solutions makes it a perfect fit."
"We are looking forward to continuing to offer our services and amazing customer support to our local businesses and individuals, while expanding our offerings with the ALKEME partnership," said John Daugherty, President of Daugherty Insurance Group."This is an exciting time for our clients and our team, as we instantly expand our offering, our reach, and gain access to ALKEME's innovative and proven growth platform."
ABOUT ALKEME
ALKEME helps insurance brokerages realize sustainable growth and success through the creative use of innovation, shared services, consultation, and marketing. Our proven methodology, unmatched expertise, and externally validated results have quickly propelled us into the top 50 privately held insurance agencies in the U.S. Partners across the country rely on ALKEME's proven platform coupled with experience, resources, and long-term perspective to help them realize sustainable growth and success in a rapidly modernizing insurance world. Based in Ladera Ranch, CA, and backed by GCP Capital Partners, ALKEME serves thousands of clients with a wide range of offerings including P&C, Benefits, Surety, Risk and Wealth Management. For more information, please visit: https://alkemeins.com.
Source: ALKEME Insurance
Tags