Alexi Announces New AI Product, Furthering Its Mission of Empowering Lawyers to Know the Law With Confidence
Press Release
•
Sep 5, 2023
Some of the largest law firms in Canada, including Gowling WLG, announce large-scale adoption of Alexi Memos.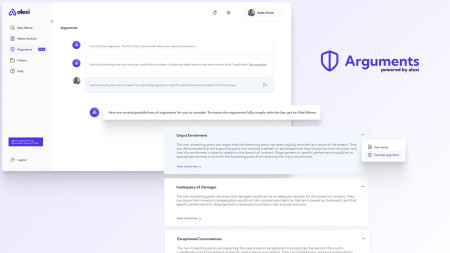 TORONTO, September 5, 2023 (Newswire.com) - Alexi is announcing a new product being released later this month, to help lawyers brainstorm through their legal arguments, and is also announcing an adoption of its Memos product at one of Canada's largest firms, Gowling WLG, joining thousands of other lawyers that now rely on Alexi for their legal research.
Alexi is a leader in generative AI for legal research, and helps lawyers know the law with confidence by producing comprehensive research memos on any legal issue, and now using generative AI to help lawyers identify the best legal arguments to advance their cases.
Legal research is a time-consuming and error prone process for lawyers. Alexi's first product, Memos, automates this process, and provides lawyers with an answer to any question in memo-format, eliminating countless hours previously wasted, and increasing accuracy in the process.
Arguments, Alexi's newest product, will utilize generative AI, as well as Alexi's proprietary domain-specific knowledge of the law, to help lawyers flesh out legal arguments they can advance in pursuit of a desired legal outcome.
Mark Doble, CEO of Alexi, explains the company's mission as "striving to make the law more knowable, while, at the same time, not artificially removing ambiguity where it exists. We aim to empower all lawyers with the best technology to enable them to provide the best service possible. Our product development is value driven, not technology driven. We do not adopt new technologies or AI models because they are trending or have generated hype. We adopt new technologies because the data show they provide greater value to the professionals who use them."
In response to those that are concerned that AI will replace lawyers, Doble says that "Human legal professionals should be the exclusive providers of legal services to the general public. This principle must be adhered to if we are to properly integrate AI into the legal industry and achieve what we refer to as "Professional AI Alignment."
Ginevra Saylor, Director, Innovation and Knowledge Programs at Gowling WLG says that "Alexi is an excellent resource that further augments our lawyers' ability to provide outstanding legal services and value to our clients. In a fast-paced world, Alexi helps us get our lawyers what they need quickly; with Alexi's work product as a great starting point, our lawyers can turn their attention to the higher value strategic and experience-based aspects of their practice."
Alexi has been serving thousands of customers across Canada and the US since 2017, and given the recent explosion of interest in generative AI, they have seen a 400% annual growth rate in the first half of 2023.
About Alexi
Alexi is a leader in generative AI for legal research, and helps lawyers know the law with confidence by producing comprehensive research memos on any legal issue, and generating objective legal arguments to help lawyers achieve their desired outcomes.
About Gowling WLG
With more than 1,500 legal professionals in offices across Canada, the UK, Europe, the Middle East and Asia, Gowling WLG provides clients with in-depth knowledge in key global sectors and a suite of legal services at home and abroad. Gowling sees the world through their clients' eyes, and collaborates across countries, offices, service areas and sectors to help them succeed, no matter how challenging the circumstances.
Contact
To contact us, please reach out to press@alexi.com
Source: Alexi