Alex 'French Guy Cooking' Releases Final Episode of DIY Winemaking Series
Press Release
•
updated: Jul 14, 2017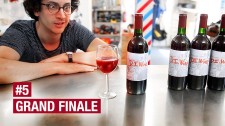 PARIS, France, July 14, 2017 (Newswire.com) - Alex, the passionate home cook behind "Alex French Guy Cooking" YouTube channel, has just released the final video of his DIY winemaking series, How To Make F* Wine at Home.
In this 5 episode series, this Paris-based self-taught cook who achieved YouTube recognition by joining Jamie Oliver's FoodTube network, is teaching viewers how to make their very own French, fantastic, fancy red wine at home, with cheap and basic equipment.
From theory to picking the right grapes, crushing, straining, bottling and sipping your very own "cru," Alex explains it all in his own personal style - enthusiastic, quirky and geeky, with a funny French twist.
A self-proclaimed "professional amateur," Alex enjoys experimenting in the kitchen and exploring the science behind food, sharing fun facts and useful tips along the way — a refreshing change from traditional French chefs and picture-perfect food bloggers.
The latest episode in the series, released Saturday, July 8, focuses on the processes of fining, bottling and, finally, tasting your own wine, with Alex sharing five essential pieces of advice for anyone willing to follow in his footsteps.
Though the whole process took over 11 months, Alex managed to sum it up in five short and entertaining videos aimed at adventurous amateurs, while providing links to buy all the material needed, to make it even easier for viewers to get started. "My goal in this adventure, like in any series I make, is to show my audience that they can do it. Nothing's impossible," he explains.
And indeed, his videos, beyond food, convey a remarkably empowering message to his international audience. Alex isn't scared of experimenting, and promotes a healthy culture of trying, failing, learning from your mistakes, and improving as you go along.
A former advertising and social media professional managing his own agency in Paris, Alex decided to leave his job behind in 2013 to follow his passion and offer viewers a fresh and funny perspective on food. "My job is to show that anybody can cook anything if it's taught right," says Alex. "My secret goal is to put a friendlier face on French cuisine." Four years on, he has developed a 200K strong following and is set to change the way people think about food, and French food in particular.
Released in five episodes over June and July, the winemaking series is the latest of several French Guy Cooking series aimed at making cooking more fun and accessible, such as the Sourdough Bread Odyssey, Beef Dry-Aging at Home, or the Tartine (French open-faced sandwich) series.
About Alex French Guy Cooking
Passionate home cook Alex is a self-taught, Paris-based food fanatic. A bit of a geek, he loves experimenting in the kitchen, sharing fun facts and useful tips along the way. A former advertising and social media executive, he left his job behind to live the YouTube adventure in 2013 and has been growing his channel, Alex French Guy Cooking, ever since, now boasting 200K followers and over 10M views. Committed to changing people's idea of cooking, Alex uploads fresh and creative content to his channel every week.
Alex's YouTube Channel: https://www.youtube.com/user/FrenchGuyCooking
The Winemaking Series: https://www.youtube.com/playlist?list=PLURsDaOr8hWW9K5MZEIbo_6wHnO-iRdhL
The final Winemaking episode: https://www.youtube.com/watch?v=oaA1HXvkqFs
For more information, visit www.frenchguycooking.com
Contact: Alex +33 6 09 80 88 69 - frenchguycooking@gmail.com
Source: Alex French Guy Cooking
Related Media
Additional Links