Alea Air Wins Best Product at CEDIA Expo 2019 in Control and Automation for Energy Management Category
Press Release
•
updated: Sep 13, 2019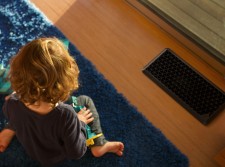 REDWOOD CITY, Calif., September 13, 2019 (Newswire.com) - ​Alea Labs is honored to announce that its recently launched Alea Air smart air distribution solution was named the 2019 CE PRO Best Product Award winner of the Control and Automation Energy Management category.
Click here to see Alea Air introduction video.
Alea Air transforms basic HVAC systems by replacing standard home registers with smart vents that track and adjust temperature, monitor air quality, and track other environmental variables. The Alea Air platform uses machine learning and predictive analytics to dynamically allocate air to individual rooms based on users' temperature preferences for each.
Alea has developed a system that consists of easily installable, state-of-the-art vents that are loaded with 12 sensors, robotic louvers, and an innovative energy-harvesting unit. Vents work together via a cloud-enabled, machine learning system that analyzes data and sends instructions to vents based on room-by-room preferences, weather forecasts, occupancy, room size and orientation, and time of day. The system generates a thermal profile of the entire home, allowing it to run central heating and cooling systems (which typically account for over 50 percent of home energy expenses) at far higher efficiency, saving money and conserving energy.
The Alea Air system is also compatible with leading smart thermostats including Honeywell (Resideo), Ecobee, and Nest along with integrations with Alexa and Google Assistant.
This year's winning CEDIA expo entries were chosen by an independent voting panel of integrators along with the editors of CE Pro. Products were individually judged on multiple criteria including innovation, functionality, competitive advantages, benefits to the end-user and benefits to the integrator.
Learn more about Alea Air at www.Alealabs.com.
About Alea Labs
Alea Labs is a smart home technology company focused on disrupting the residential and office building heating and cooling experience. Alea offers affordable products and professional services that enable room-by-room temperature control, energy savings, and significant data-driven benefits.
About CE PRO
CE Pro is the leading media business for custom installers in the residential market. These professionals design, install and service the connected-home including audio, video, security, home automation, lighting controls, motorized shades, energy management, home networks and related systems.
Media Contact
PR for Alea Labs
Info@alealabs.com
Source: Alea Labs
Additional Links