Alaffia Introduces the Repair & Restore Collection for Quenched, Hydrated and Strengthened Hair
New 9 product range features cruelty-free hair care, styling & treatment products made with Fair Trade and MADE SAFE-certified ingredients
Press Release
-
updated: Jul 13, 2018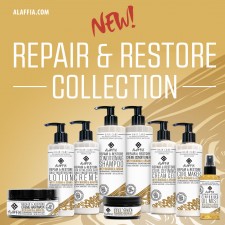 OLYMPIA, Wash., July 13, 2018 (Newswire.com) - Alaffia, the 15-year-old natural beauty social enterprise, introduces the Repair & Restore Collection of hair care, styling and treatment products developed to provide maximum nourishment for all dry and damaged hair.
The Repair & Restore Collection is ideal for all hair textures: straight, overly processed, coarse, natural, wavy or curly. The collection keeps consumers of all ethnicities with hair dryness and damage as their main concern – top of mind.
This highly anticipated collection of nine products incorporates ingredients like Argan Oil, Monoi Oil and Keratin, all of which are proven to restore, smooth and protect hair from roots to ends, creating a protective layer that heals and prevents future harm. Star products in the new collection include the Conditioning Shampoo, Crème Conditioner, Daily Moisturizing Lotion, Crème Hair Mask, Curl Maker and Curl Defining Cream Gel. (See full list and descriptions below.)
All products are available now exclusively at Alaffia.com with planned expansion to top natural food and beauty retailers nationwide.
"The Repair & Restore Collection addresses dryness as the core hair issue, as well as dehydration and healing past processing and environmental damage. For those that seek to quench the thirst of depleted hair, Repair & Restore is a second chance," said Daya Fields, Alaffia's senior vice president of marketing and product development. "Our team has utilized clinically tested, natural ingredients that have the power to heal over time with consistent use and a Repair & Restore regimen."
Known for its ethically made, Fair Trade and MADE SAFE-certified range of hair, face and body care products, Alaffia's Repair & Restore Collection features key ingredients known for their nourishing properties, such as:
Argan Oil, which gently replenishes and balances stressed hair while promoting healthy hair growth.
Monoi Oil, which softens and strengthens dry or coarse hair while also healing damage from processing.
Keratin, an important component of overall beauty health that supplies the building blocks that keep hair follicles looking thick and lustrous.
The most exciting part for beauty enthusiasts? Alaffia is more than just a beauty brand. The Washington- and West African-based organization is on a mission to alleviate poverty and advance gender equality through the fair trade of indigenous resources and community empowerment initiatives since 2003.
Its social enterprise model means ingredients are sourced from Alaffia's women's cooperatives in West Africa via Fair for Life standards (by the Institute of Marketecology). Flagship ingredients, such as handcrafted shea butter and coconut oil, are then used to create natural beauty products here in the U.S.
Alaffia's non-profit empowerment initiatives around maternal health, education, vision correction and the environment have directly impacted close to 80,000 lives and led to almost 60,000 trees planted.
THE FULL REPAIR & RESTORE COLLECTION:
The highly anticipated nine-piece Repair & Restore Collection is comprised of the following hair care, styling and treatment products:
Conditioning Shampoo (12 oz, $16) – Gently cleanses, soothes and moisturizes hair and scalp — without stripping natural oils, color and/or process treatments.
Crème Conditioner (12 oz, $18.50) – Botanicals deeply hydrate, nourish and strengthen hair. Moisturizing formula detangles, increases slip, improves manageability and quenches thirsty hair. Its botanicals deeply hydrate, nourish and strengthen hair.
Daily Moisturizing Lotion (8 oz, $14) – Multi-tasking and infused with natural oils and botanicals to deliver nourishment with heat and environmental defense. It's light and fast-absorbing, providing all-day hydration for a soft, frizz-free and protected style.
Crème Hair Mask (8 oz, $18.50) – This intense conditioning treatment replenishes and soothes dry or damaged hair, nourishing each strand and increasing hair slip and malleability.
Daily Moisturizing Crème (8 oz, $15) – Ultra-rich formula with natural oils and nourishing butters yields heavy and deeply absorbing hydration to detangle and improve manageability. Recommended for dense or extra thick hair.
Curl Maker (8 oz, $15) – Rich, creamy emulsion hydrates and elongates curls for maximum stimulation and definition. Natural vitamins help create shiny, soft, well-defined curls. 
Curl Defining Cream Gel (8 oz, $15) – Hydrates and defines curls with natural vitamins for shiny, long-lasting style. Reduces frizz and provides medium-to-strong hold with moisture that ensures all-day wear for alluring waves and curls. 
Finishing Oil Mist (2 oz, $9.50) – This must-have lightweight oil blend adds a layer of hydration and protection for healthy, luminous and brilliant shine.
Edge Tamer (2 oz, $10) – Smooths, protects and controls unruly edges and on the crown where hair is most fragile, weak and in need of care. Natural oils nourish and help to eliminate frizz, providing an added layer of defense. It adds the perfect sleek finish to any hairstyle.
MEDIA CONTACT:
Bilal Kaiser: bk@agencyguacamole.com // (310) 878-2560
HI-RES ASSETS AVAILABLE HERE:
https://goguac.io/repairandrestore
ABOUT ALAFFIA
Alaffia was founded in 2003 in the Olympia, Washington, garage of husband and wife team Olowo-n'djo Tchala and Prairie Rose Hyde. Alaffia sources fair trade and MADE SAFE-certified ingredients from West Africa and produces natural, efficacious hair, skin and body products at its Washington headquarters.
Alaffia employs 145 people at its 102,000-square-foot Tumwater, Washington, facility and more than 14,000 in West Africa.
Alaffia's non-profit empowerment initiatives have resulted in 59,775 trees planted, 34,640 school supply recipients, 8,253 bikes distributed, 25,588 eyeglasses donated, 12 schools constructed and more than 4,832 babies safely delivered in West Africa. To learn more, visit Alaffia.com or follow Alaffia on Instagram, Facebook, Twitter and LinkedIn.
Source: Alaffia
---
Categories: Beauty and Personal Care, Consumer Goods
Tags: beauty, fair trade, hair care, hair styling, hair treatments, natural beauty, personal care, social enterprise
---