AJC Names IPA (Innovative Product Achievements) to List of Top Workplaces 2023
Press Release
•
Mar 22, 2023
IPA's Top Workplaces award is based entirely on the employee feedback captured by the Workplace Survey,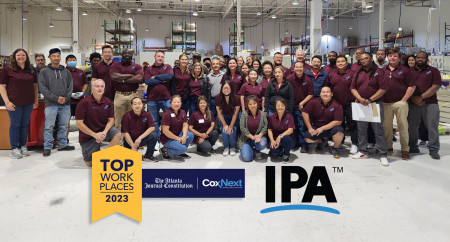 DULUTH, Ga., March 22, 2023 (Newswire.com) - IPA - Innovative Product Achievements - a leading provider of advanced solutions for the management and automation of healthcare linen and specialty uniforms, has been awarded a Top Workplaces 2023 honor by The Atlanta Journal-Constitution Top Workplaces. The list is based solely on employee feedback gathered through a third-party survey administered by employee engagement technology partner Energage, LLC. The confidential survey uniquely measures 15 culture drivers that are critical to the success of any organization: including alignment, execution, and connection, to name a few.
The ranking is unique in that it is purely based on employee input that Energage collected through a private survey. This poll examines key organizational success factors such as alignment, connectivity, employee engagement, and corporate leadership. It is a true reflection of the employee experience since top workplaces are chosen based on how favorably workers rate their workplaces.
The survey feedback revealed responses such as "inclusive," "diverse," "engaging," and "family-oriented" as just a few of the company culture attributes that resonated the most with IPA employees.
"Earning a Top Workplaces award is a badge of honor for companies, especially because it comes authentically from their employees," said Eric Rubino, Energage CEO. "That's something to be proud of. In today's market, leaders must ensure they're allowing employees to have a voice and be heard. That's paramount. Top Workplaces do this, and it pays dividends."
"At IPA, we have an established mission, vision, and set of core values," says IPA President Stephen Lee. "It's what our diverse and talented team exhibits and lives by on a daily basis. In addition to our workforce, we have a passionate Senior Leadership Team that genuinely cares about the employees and their success. All these parts combine to form an impressive collection of people who support each other and push each other to be the best versions of ourselves in all that we do."
About IPA
IPA is the leading manufacturer of automated surgical scrub and linen dispensing equipment for healthcare providers. The company partners with hospitals to increase productivity, support infection control efforts, and provide tangible cost savings by reducing replacement and processing costs for surgical scrubs and linens. IPA solutions are made in the U.S.A. and are installed in more than 1,000 hospitals worldwide, with more than 900,000 healthcare professionals utilizing IPA technology every day. IPA, a subsidiary of Roper Technologies, is headquartered in Duluth, Georgia. For more info, visit www.thinkipa.com.
About Roper Technologies
Roper Technologies, a constituent of the S&P 500, Fortune 1000, and the Russell 1000 indices, designs and develops software and engineered products and solutions for industries and markets worldwide. For more info, visit www.ropertech.com.
Source: IPA - Innovative Product Achievements
Related Files