AITest.AI Emerges as Global Leader in Artificial Intelligence System Testing Training
Press Release
•
Mar 23, 2023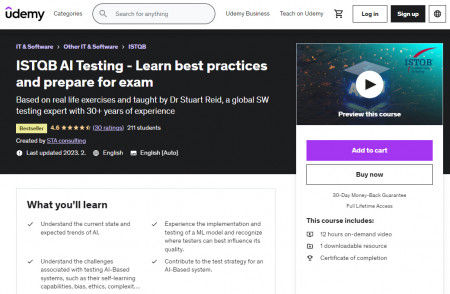 SEOUL, South Korea, March 23, 2023 (Newswire.com) - In the rapidly evolving field of artificial intelligence (AI), ensuring the quality of AI systems has become a crucial concern. Korean startup AITest.AI has established itself as a market leader in training to meet the growing demand for education in AI system testing. Recently, AITest.AI launched an innovative AI-testing training course on Udemy, a global e-learning platform, and has attained the topmost position in this field.
AITest.AI offers training based on the International Software Testing Qualifications Board (ISTQB) syllabus, which is widely acknowledged as the industry standard by software testers. The course provides numerous examples of testing systems with AI technologies, enabling students to establish quality goals for these systems and perform the necessary tests to achieve these goals effectively and accurately.
With the increasing adoption and use of artificial intelligence technologies, ensuring the quality and reliability of these systems has become a critical concern. As a result, international standardization bodies such as ISO, IEC, and IEEE, as well as the ISTQB - a widely recognized industry standard by software testers - are actively developing and disseminating standards and knowledge frameworks to enhance the quality of AI systems.
The courses offered by AITest.AI on Udemy have received positive reviews among trainees from 38 countries, including the United States, India, Germany, and Poland, with students reporting positive feedback on the detailed course content, well-structured curriculum, and effectiveness in preparing for the ISTQB AI-testing certification exam. Furthermore, the course has been selected for Udemy Business, a carefully curated collection of the top 3% of courses designed for leading global businesses.
The course has garnered high levels of satisfaction from students, who have praised it for its detailed content, clear explanations of theoretical examples, practical exercises using various tools to aid learning, well-structured curriculum, and its effectiveness in preparing them for the ISTQB AI-testing certification exam.
AITest.AI provides a comprehensive curriculum covering the fundamental concepts and latest technologies in artificial intelligence system testing. Specifically, the course includes multiple examples of AI-based testing systems, allowing students to set quality goals for such systems and conduct necessary tests with precision and effectiveness. One of the key advantages of this training is its accessibility, as it is open to anyone interested in creating high-quality AI systems, including developers and test engineers.
Furthermore, AITest.AI offers certification exam services that allow students to take the ISTQB AI-Testing and Foundation Level exams from anywhere in the world at their convenience. As artificial intelligence evolves rapidly, AITest.AI remains dedicated to researching and developing its products, with plans to provide more advanced technology and professional education. By expanding its offerings, AITest.AI aims to cement its position as a leading educational institution in AI testing.
About AIT:
Since 2019, STA Consulting and KSTQB, which operate AITest.AI, have been providing professional AI Testing training and certification exams in the Korean market and have recently launched the AITest.AI brand to expand their reach to the global audience.
Source: AITest.AI