AIMS 2.0 Uses RFID to Bring Next-Day Eyewear Delivery to Independent Eye Doctors
Press Release
•
Jan 26, 2023
Frame Source and SimplyRFiD partner to bring eyewear order management to independent optometrists. Eye doctors use the AIMS online system to drop-ship complete orders with prescription from a catalog of more than 100,000 frames from leading manufacturers.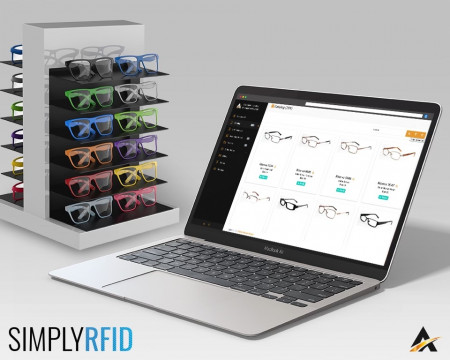 DALLAS, January 26, 2023 (Newswire.com) - SimplyRFiD, in partnership with Frame Source Group, released AIMS version 2. Launched on Jan. 23, 2023, AIMS v2 brings the latest in RFID inventory, order management, and next-day service to patients expecting fast service for eyewear.
Traditionally, optometrist offices stock 1,000 to 3,000 unique frames. Customers select a frame and that frame is sent to a lab for prescription lenses.
Replacement frames must be re-ordered manually from a manufacturer. This process removes the 'best frame' for 2-4 weeks. Additionally, customers wait for up to two weeks while the frame goes from the doctor to a lab for processing.
"Ever wonder why the frame you want or saw on a celebrity isn't there? Because 'best sellers' only last on the board for one day!" said Greg Smith, head of sales for Frame Source. "With AIMS, the best sellers go back on the board, and AIMS handles ordering a fresh frame directly from the manufacturer. With AIMS, the best frames are always in stock."
AIMS is directly integrated with 17 manufacturers sending stock levels and providing online ordering and drop shipping for optometrists.
Integrated Manufacturers:
A&A *
Charmant *
Design Eyewear
Eight to Eighty Eyewear *
Europa *
Iconyx *
Kenmark *
L'Amy *
Luxottica
Match Eyewear *
Modern Optical *
MODO *
Mondottica *
Morel *
Tura *
WestGroupe *
* offer same-day shipping on all frame orders and more are expected to be ready shortly.
These manufacturers represent the top brands with more than 100,000 frame choices between them. Sample brands include Ann Taylor, Burberry, Chanel, Dolce, Oakley, Persol, Ralph Lauren, Ray-Ban, Riserva, SuperFlex and hundreds more.
AIMS v2 gives independent eye doctors the ability to compete with online retailers by offering in-person try-ons, fast delivery, and a huge selection.
New in V2:
Direct order: New frames/lenses come from the manufacturer, allowing doctors to sell the best frame several times a day, increasing customers' satisfaction that the product they want is in stock.
Velocity Reports: Sell-through reports show which frames sell the fastest with the best margins. Low-selling products can be adjusted using frame allocation.
Frame Allocation and Board Management: Doctors can set levels by vendor to ensure vendors are keeping the top sellers available to their customers.
Cost Management: Frames are ordered as they are sold. No more bulk deliveries of 100 'new frames' that no one remembers ordering.
AIMS v2 is an extension of SimplyRFiD's #1 Wave RFID Retail Inventory system and developed in partnership since 2020.
AIMS v2 is available now from Frame Source Group at www.framesourcegroup.com. Systems start at $3,000.
Source: SimplyRFiD