Aimpoint Digital Named Dataiku's FY23 Americas SI Partner of the Year
Press Release
•
Jun 8, 2023
Aimpoint Digital proudly announces that it has been named Dataiku's Fiscal Year (FY) 2023 Americas SI Partner of the Year.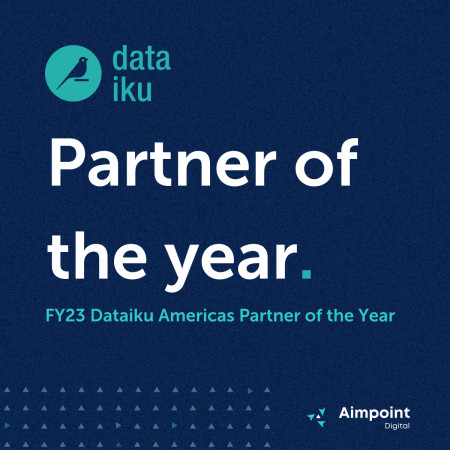 ATLANTA, June 8, 2023 (Newswire.com) - Aimpoint Digital, a leading provider of data-driven solutions, proudly announces that it has been named Dataiku's Fiscal Year (FY) 2023 Americas SI Partner of the Year. This prestigious accolade underscores Aimpoint Digital's unwavering commitment to delivering exceptional data-driven solutions, fostering a remarkable collaboration with Dataiku, and driving innovation and success for its clients.
"We are incredibly honored to be recognized as Dataiku's Partner of the Year. This achievement is a testament to our team's dedication, hard work, and passion, which continuously drives us to excel in building this strong partnership," said Ben Yopp, Managing Partner at Aimpoint Digital. "We are grateful to Dataiku for their support and recognition, and we remain committed to leveraging the power of their platform to deliver cutting-edge analytics and AI solutions to our clients."
As a premier Dataiku consulting partner, Aimpoint Digital's team of seasoned data scientists is uniquely positioned to build high-value machine learning solutions rapidly and seamlessly integrate them into client environments. Dataiku's platform offers industry-leading capabilities that empower organizations to democratize data science, making it an ideal choice for Aimpoint Digital's partnership.
David Tharp, SVP of Ecosystems and Alliances at Dataiku, shared, "Aimpoint Digital has proven to be an exceptional partner, demonstrating expertise and dedication in leveraging Dataiku's platform to deliver outstanding results. We're proud to honor them as Partner of the Year and look forward to continued growth and innovation together."
Aimpoint Digital offers a comprehensive suite of services designed to optimize the return on investment from Dataiku Data Science Studio (DSS) integration, including ML/AI Enterprise Strategy Development, COE Development, DSS Training, DSS Current State Evaluation, DSS Implementation and Environment Set-Up, and Model Construction/Use Case Development.
Being named Dataiku Partner of the Year is a monumental achievement showcasing the best in the industry, highlighting Aimpoint Digital's ability to provide top-tier services and solutions to clients leveraging Dataiku's platform.
To learn more about Aimpoint Digital and its Dataiku consulting services, please visit https://aimpointdigital.com/.
About Aimpoint Digital
Aimpoint Digital is an analytics firm at the forefront of solving the most complex business and economic challenges through the usage of data and analytical technology. From the integration of self-service analytics to implementing AI at scale and modernizing data infrastructure environments, the company operates across transformative domains to improve the performance of organizations. To learn more, please visit https://aimpointdigital.com/.
About Dataiku
Dataiku is the platform for Everyday AI, enabling data experts and domain experts to work together to build AI into their daily operations. Together, they design, develop and deploy new AI capabilities, at all scales and in all industries. Organizations that use Dataiku enable their people to be extraordinary, creating the AI that will power their company into the future.
Founded in 2013, Dataiku has proven its ability to continue to develop its founding vision for Everyday AI, and to execute on its growth. With more than 500 customers and more than 1,000 employees, Dataiku is proud of its rapid growth and 95% retention of Forbes Global 2000 customers. Connect with Dataiku on its blog, Twitter (@dataiku), and on LinkedIn.
Source: Aimpoint Digital
Tags