Aiga Brings IoT Technology to Your Shower & Reduces Your Water Usgae by Up to 60%
Press Release
•
Jun 20, 2016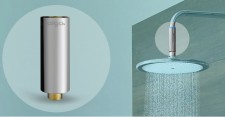 Los Angeles, CA, June 20, 2016 (Newswire.com) - ​IoT startup aiga, today launches its first consumer product for showers on Kickstarter.
aiga takes showering from a passive experience to an interactive one through adopting the latest IoT technology. aiga can be installed with virtually any shower in less than two minutes; it will reduce how much water your shower uses by up to 60%, and at $65 it will pay for itself within two months and saves the user over $400 per year!
Reduce your water usage by up to 60% when showering.

Steve Walton, Founder & CEO
aiga is composed of two integrated systems: a hardware unit which screws in-line before your shower head, and a software system which acts as a controller in the form of an app, or a cloud system.
aiga's hardware is composed of: integrated sensors, flow compensators, pressure switches, a custom semi-conductor processing chip, a proprietary power source, and a WI-FI board—all of which is held together with some very secret sauce.
aiga's app is intuitive and easy to install. Once downloaded, it automatically syncs via any WI-FI network. The app has two control options: The first is a 'Quick' setting. Just select the shower you want to control, then rotate the dial to the desired water saving level—it's that simple!
The team behind aiga are an eclectic group of talented individuals assembled from some of the world's leading companies, all brought together through a universal passion—to create cutting-edge water saving technology.
Source: aiga
Related Media