Aielowu Jeannie Could Be the Pioneers for the Perfected Women's Jeans That Offer Both Comfort and Unique Style
Press Release
•
updated: Jul 13, 2018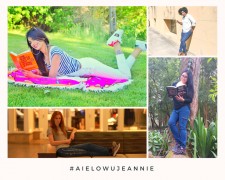 THOUSAND OAKS, Calif., July 13, 2018 (Newswire.com) - The comfort of women's jeans faring inferior to leggings in leisure activities is what made many women switch from jeans to other types of legwear. Major brands, recently, introducing trends such as "distressed" or "legging" to woo back women into buying jeans. Nonetheless, the brands are yet to provide women with the golden combination of comfort and style. Historically all women's leg-wears evolved from men's fashion, ignoring the woman-specific comfort and needs.
Fortunately for women, there is a brand that aims at providing the perfected jeans experience to women, "Aielowu Jeannie." By improving women's jeans from an uncomfortable, distressing affair to one that is hassle-free and caters to women's hygiene and comfort at a level even the most reputed brands can't match, "Aielowu Jeannie" hopes to pioneer the way modern jeans are made. Their primary goal is making jeans comfortable for the women.
Live-Lived Incorporated (a C-corporation incorporated in Delaware, USA) is planning a huge disruption in the history of women's jeans, through innovation. We have developed a unique line of jeans named 'Aielowu Jeannie' (read as 'I love you Jeannie'), with the aim of making women feel comfortable on denim, use the restroom with ease as well as attend to their hygienic needs in limited privacy. We are launching 'Aielowu Jeannie,' the future of women's jeans, worldwide through a Kickstarter​ crowdfunding campaign on July 14.

Vinu B Krishnan, Ph.D., CEO, Live-Lived Incorporated
Often, traditional jeans sacrifice comfort for looks with the disadvantage of women having to undergo a hard battle every time they want to do as little as going to the restroom. That is why Live-Lived Inc., the company that owns Aielowu Jeannie, believes in incorporating certain hygienic features into their jeans that give women the ability to be in full control all day long. Their jeans make it easier for women to attend to their hygienic needs like changing a tampon or a menstrual cup, in limited privacy. Their patented design featuring a front opening flap with a pair of zippers makes certain hygiene activities easier and less stress-inducing when compared to traditional jeans and leg-wears.
Realizing the importance of style along with comfort and quality, Live-Lived Inc. is launching a Kickstarter crowdfunding campaign on July 14. Aielowu Jeannie intends to change the future of women's jeans as has been proved by their latest line of jeans which has the right mix of style and comfort. They hope to make a difference that is not only worthwhile but also holds a lasting impression in the minds of their wearers. Setting new trends and causing an evolution in women's jeans like never before, no wonder many have already begun calling their jeans the World's Best Women's Jeans.
Media Contact:
Parag Vasekar, Ph.D.
407.403.4943
media@live-lived.com
Source: Live-Lived Incorporated
Related Media
Tags