AI Leaders Meet in San Francisco on April 12 for the BootstrapLabs AAI18 Conference
Press Release
•
updated: Apr 10, 2018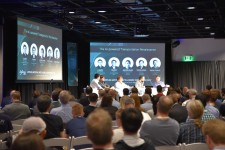 SAN FRANCISCO, April 10, 2018 (Newswire.com) - BootstrapLabs, a leading venture capital firm focused on Applied Artificial Intelligence, announced its third annual Applied AI Conference to be held on April 12 in San Francisco. After the success of the 2016 and 2017 conferences, over 800 AI leaders, corporate executives, venture capitalists, startup founders, government officials and researchers will be getting together again for a full day of exciting conversations around the application of AI technologies across all major sectors.
AI's disruptive power and impact on society, enterprise and people are not yet fully understood, but it is already evident that everything will be transformed. Accenture's latest report shows that "AI has the potential to boost rates of profitability by an average of 38 percentage points and could lead to an economic boost of US$14 trillion in additional gross value added (GVA) by 2035."
"At BootstrapLabs, we aspire for the Applied AI Conference to be a source of inspiration, conversation and practical advice on how Artificial Intelligence can be used in a positive way to empower people, organizations and society in general." - Nicolai Wadstrom, founder and CEO of BootstrapLabs
This year, all attendees will receive a copy of the recently published book, "Human + Machine: Reimagining Work in the Age of AI," by conference speaker Paul Daugherty, chief technology & innovation officer, Accenture.
Marc Benioff, chairman and CEO, Salesforce, had this to say about the book: "Human + Machine is a roadmap to the future - read it if you're serious about understanding the impact of AI and how it is driving growth."
The Applied AI Conference 2018 agenda is focused on key themes and industries that are at the forefront of this revolution: Transportation & Logistics, IoT, Financial Services, Cyber Security, Healthcare, Future of Work, Energy, Robotics and more. Some of the session highlights include: work in an AI world, the death of Moore's Law, the future of machine learning, how AI will shape the future of energy, practical enterprise and industrial AI applications, the deep impact of AI in healthcare, where robotics and robots are going, the need for new public-private partnerships for the greater good and whether AI will save or destroy the media industry.
Leaders from organizations including Apple, Cisco, GE, Intel, Samsung, Lyft, Salesforce, Oracle, IBM, Genentech, Johnson & Johnson, Bayer, Swisscom, SingTel, Deutsche Telekom, Capital One, Mastercard, Visa, Qualcomm, World Economic Forum, Hyundai, Toyota, Nissan, SoftBank, BAE Systems, innogy, EDF, Shell, Accenture, PARC, UC Berkeley, Stanford, emerging AI founders, top venture capitalists and many others will be in attendance.
Some of the 2018 speakers include:
Kay Firth-Butterfield - Head of AI and Machine Learning, World Economic Forum
Richard Socher - Chief Scientist, Salesforce
Gilad Lotan - VP and Head of Data Science, BuzzFeed
Sangeeta Chakraborty - Chief Customer Officer, Ayasdi
John Absmeier - VP Smart Machines, Samsung
Paul Daugherty, Chief Technology & Innovation Officer, Accenture
Nisha Talagala - CTO/VP Engineering, Parallel Machines
Steve Carlin - Chief Strategy Officer, SoftBank Robotics America
Nadeem Sheikh, VP of Self Driving Programs, Lyft
SoftBank Robotics' friendly humanoid robot Pepper will make an appearance at the Applied Artificial Intelligence Conference, offering attendees multiple opportunities to stand face-to-face with the four-foot humanoid robot. Featured unlike ever before, Pepper will utilize facial recognition to assist many of the 800-plus attendees with the check-in process, ensuring that guests are registered quickly and efficiently.
Full speakers lineup and conference program are available at bootstraplabs.com.
About BootstrapLabs
BootstrapLabs is a leading venture capital firm based in Silicon Valley and focused on Applied Artificial Intelligence. We actively invest in passionate entrepreneurs building disruptive startups that use AI technologies to solve global problems in sectors such as Transportation, Logistics, Financial Services, Future of Work, Cybersecurity, Energy and Healthcare.
Select portfolio companies include AEye, Mendel Health, Qurious, Vidora, Sibly, SmartEar, Roger.ai, Pryon, Indus.ai, Pinn Technologies, Prezi, Trusted Insight and AngelList.
BootstrapLabs leverages its community of successful entrepreneurs, AI experts, corporate executives, investors and thought leaders to support its portfolio companies and investment strategies.
Press Contact Information: Press@bootstraplabs.com
Luigi Congedo, Principal, BootstrapLabs​
Email: luigi@bootstraplabs.com
Edward Farraye, Marketing Manager, BootstrapLabs​
Email: edward@bootstraplabs.com
Source: BootstrapLabs
Related Media
Tags
Additional Links