AI Enabled App to Improve Toothshading
Evenset has collaborated with Genoskwa Technologies to develop SmartShading AI, a mobile application that can be expected to lower the costs of dental crown treatment and improve teeth shading accuracy.
Press Release
-
updated: Jul 18, 2018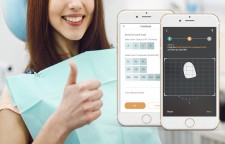 TORONTO, July 18, 2018 (Newswire.com) - Evenset has teamed up with Genoskwa Technologies to develop SmartShading AI, an application that can be expected to lower the costs of dental crown treatment and improve teeth shading accuracy. SmartShading AI is a mobile application which uses machine learning and image processing techniques to help shade patient's teeth. The current process of choosing a proper shade color for the crown is manual and subjective, therefore prone to many human errors. The dentist or the lab technician uses Shade Tabs and holds them next to the patient's tooth to find the "perfect match." However, on average 6% of crowns should be remade due to misinterpretation of data or failure to match shades accurately, which is costly and extremely time-consuming. SmartShading eliminates this element of human error by utilizing a combination of several image processing techniques to improve accuracy. The mobile app is developed to detect the perfect match using phone's camera. The app also collects critical information about the patient oral health, teeth size, and translucency, then reports it to the corresponding lab.
Among all other benefits, the SmartShading app also allows for in-app payments, therefore dentists can charge and keep custom shading fees in-house. Payments are no longer a separate process for both customers and dentists. Charging customers automatically keeps the process faster than before. The whole SmartShading process takes less than a minute, from scanning the tooth, sending the results to a lab, and making a payment. Additionally, the machine learning algorithm trains itself as the app is used more and more, for accurate results every time. During the shading process, if there is ever the feeling that the results can be improved, the mobile application offers an interface to modify the results and report them to the lab. Feedback will be used to fine-tune the machine learning algorithm.
SmartShading AI is born in Canada, and the idea comes from practitioners working for many years in the industry. Developed by a team of dentists, data scientists, and software developers that came together to enhance the tooth shading process using artificial intelligence, the SmartShading AI app provides a great opportunity for dentists to use the technology to get better, faster and more accurate results for their patients.
The Smartshading app is a complex custom mobile application which is built in collaboration with Evenset. Evenset brings ideas to life through an agile custom software development process. They provide the seamless experience of having a professional team of brilliant software developers and are experts in building world-class custom software for the Medical and Health Care industry.

For more information on the app visit: https://www.smartshading.ai or click here for more information on Evenset's services.
Source: Evenset Inc.
---
Categories: Healthcare
Tags: application, healthcare, mobile, MobileDesign, responsive, technology, web
---