Agribotix™ Releases the New Agrion™ Agricultural Drone Built on the DJI™ PHANTOM™ 4 Pro
Press Release
•
updated: Jun 26, 2017
Longer range and higher resolution helps farmers and their advisors make better decisions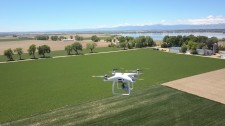 Boulder, CO, June 26, 2017 (Newswire.com) - Emerging leader in agricultural intelligence, Agribotix, announced the immediate availability of The Agrion P4P, the newest version of its Agrion agricultural drone system. The new Agrion is a complete agricultural drone solution at a price that makes sense. This solution delivers state of the art benefits including increased range per flight, surveying more area with fewer battery changes, while also creating more detailed results.
"Agribotix is constantly evaluating the best and latest technology, rapidly updating its platform to deliver the most value for every agricultural dollar," said Tom McKinnon, Chief Technology Officer. He continued, "this means agronomists, retailers, equipment dealers, and growers can concentrate on their operations and be confident that Agribotix will find and offer the most potent, convenient, and cost-effective solutions possible."
"The Agrion P4P is so easy to use, it is simple to get great data to upload to FarmLens™, and then rapidly receive results that help me identify problems."

Daniel Gastelum, DiscoveringPro
Daniel Gastelum from DiscoveringPro, an agricultural drone dealer, started using the Agrion P4P in early May and is already enjoying a healthy return on the investment. "The Agrion P4P is so easy to use, it is simple to get great data to upload to FarmLens™, and then rapidly receive results that help me identify problems, improve my practices, and maximize my customers' yields and profits," Gastelum said.
Agribotix' award-winning FarmLens software is part of the Agrion P4P bundle. The cloud-based agricultural analytics service provides fast, significant value for any type and level of precision ag practice. Growers writing prescriptions for variable rate application or seeding appreciate FarmLens' geotiffs and shapefiles which allow them to incorporate near-real time field conditions. For those who already have a drone, FarmLens is drone agnostic and able to process images from all leading drone-sensor combinations.
Growers just becoming interested in drone technology can scout fields more efficiently with FarmLens' Guided Scouting and Digital Scouting™ Reports. The Digital Scouting Report includes field-level weather data and clearly isolates problems or shows normal crop variability, allowing the grower to get more from every acre at the lowest possible cost.
The Agrion P4P is available today, starting at under $5,000, at Agribotix.com.
About Agribotix
Founded in Boulder, Colorado, in 2013, Agribotix LLC delivers agricultural intelligence to increase yields and profits using drone-enabled technologies. All Agribotix solutions include FarmLens,™ a leading cloud-based data analysis and reporting solution for people using drones in agriculture. Outputs include agricultural intelligence maps for in-season fertilization, georeferenced reports that can be used to identify resistant weed patches and estimate coverage, stand density analysis, and specialized reporting that supports precision agriculture programs. The FarmLens solution is available separately as a subscription and in bundles including a drone.
For more information, visit www.agribotix.com or call (720) 295-3625.
DJI and PHANTOM are trademarks of DJI. Agribotix, Agrion, and FarmLens are trademarks of Agribotix, LLC.
Source: Agribotix
Related Media