Agisent Releases Advanced Medical Screener and Infectious Control Software for COVID-19
Press Release
•
updated: Apr 14, 2020
New Tools Available for Law Enforcement and Medical Service Providers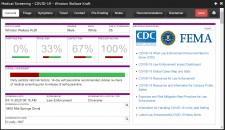 TULLAHOMA, Tenn., April 14, 2020 (Newswire.com) - ​​​Agisent Technologies, Inc., a Tennessee-based developer of public safety software with customers across the US, today announces the second major release of COVID-19 related enhancements in as many weeks.
"Today's release includes important tools to help Law Enforcement and the Medical Community in their fight against COVID-19," states Agisent President David Lutfy, "and further extends the suite of tools we released two weeks ago."
According to the company, their Advanced Medical Screener was designed to support both Law Enforcement and Medical Services Providers. For Law Enforcement, the screener is integrated into the company's Records Management System (RMS) and on-site Incident Management console.
"The screener lets law enforcement quickly identify and document infection and quarantine-related situations and individuals," continues Lutfy, "and can transmit that information in real-time to all of the necessary parties."
For Medical Services Providers, the screener provides a branded standalone solution for advanced medical screening and triage with full support for wireless tablets and other devices. And, while optimized for COVID-19, the screener covers an enhanced range of topics to assist with the best possible real-time information gathering and dissemination.
The company also today announced the release of a comprehensive Infection Control management system that includes automated Infectious Contact form generation and a dedicated real-time portal for Infection Control Officers. This lets the ICO oversee and manage the various aspects of infection and quarantine for Law Enforcement and other First Responders in real-time.
"With so much going on with COVID-19 today," adds Agisent's Lutfy, "automating the Infectious Contact form means less paperwork and more focus on staying healthy and protecting others."
Both products are available free of charge to existing customers, and new customers can be up and running in as little as 4 hours.
About Agisent Technologies, Inc.
Agisent provides advanced technology solutions that save lives and blow away the competition. They combine a deep understanding of law enforcement and public safety with an unrivaled technology platform bringing leading solutions in the following areas: Law Enforcement, Drug Control, Prosecution, Campus Police, Private Security, and Fusion Centers. The company's core products include: Agisent Platform RMS, ProDocs Secure File Transfer and eDiscovery, Real-time Data Exchange (L.E.X.), and more.
Agisent Technologies, Inc.
217 Big Springs Avenue
Tullahoma, TN 37388
Telephone: 877-778-5277
Fax: 931-571-8886
https://www.agisent.com
Source: Agisent Technologies, Inc.
Tags
Related Files