Aftermath Services Inc. Awards $5000 K9 Grant to Lake County Sheriff's Office
Press Release
•
Nov 16, 2015
Aurora, IL based crime scene cleanup company, Aftermath Services LLC, officially announced the winner of its 2015 K9 Contest. Open to law enforcement agencies nationwide, the contest received over 36,000 votes from hundreds of nominees. The Lake County Sheriff's Office (IL) amassed the most votes, surpassing competitors from as far away as Colorado and Massachusetts.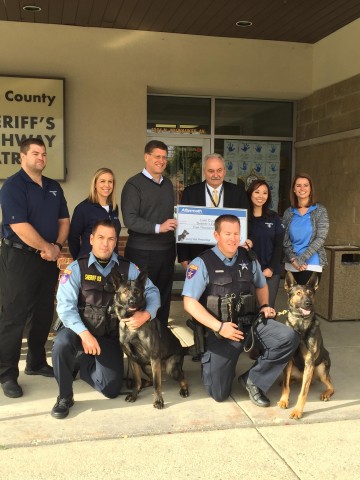 Aurora, IL, November 16, 2015 (Newswire.com) - ​Aurora, IL based Aftermath Services LLC officially announced the winner of its 2015 K9 Contest. The Company's CEO, Doug Berto, presented the $5,000 award to the Lake County Sheriff's Office ("LCSO"); the check was accepted by Undersheriff Ray Rose. Sergeant James McKinney, head of the agency's K9 unit, said the funds from Aftermath would be used to provide lifesaving vests for the K9s, as well as aid in the purchase of new technology designed to detect the early warning signs of heat stroke, which can be deadly to working dogs.
Open to law enforcement agencies nationwide, this year marks the first time the contest used a voting system in place of a randomized drawing. Entries were submitted online and anyone in the community could participate. Departments were encouraged to get involved by submitting photos of their K9s, while promoting the contest to colleagues, friends, and neighbors. The contest, which ran from October 1st through the 31st, received over 36,000 votes from hundreds of nominees. Police departments in Colorado and Massachusetts earned 2nd and 3rd place respectively, while the Lake County Sheriff's Office climbed to 1st place in the final days of the vote, amassing almost 2,000 more votes than its closest competitor.
LCSO's K9 unit currently consists of 3 canines: Dax, Diesel, and Duke. All three dogs are German Shepherds from the Czech Republic, chosen for their exceptional health, longevity, and intelligence. The dogs and their handlers work a full week, including a designated day of training. Some days are as long as ten hours; they also train on Saturdays. At night, the animals accompany their partners home.
During their tenure on active duty, the dogs receive top notch care, not to mention plenty of playtime. A healthy K9 can serve the department for over 8 years; and many continue to live long lives well past retirement. However, veterinary care, food, appropriate facilities and equipment, as well as ongoing professional training, are just a few of the expenses faced by a functioning K9 unit. The majority of funding is limited by the department's central budget, though Lake County is fortunate to receive regular grants from D.A.S., an animal welfare agency located within the county, as well as private awards like the grant from Aftermath Services.
At the award presentation, Undersheriff Rose expressed his gratitude to the crime scene cleanup company: "This is another example of how public and private partnerships make for successful community policing. We are thankful to Aftermath for their financial support for law enforcement and we could not have won without the tremendous support we received from our employees, county employees, Facebook followers and community supporters. Thanks to all."
About Aftermath Services LLC.
As the nation's largest dedicated crime scene cleanup company, Aftermath Services LLC recognizes the contributions made by K9 officers and their partners. In an effort to provide law enforcement with access to this valuable resource, Aftermath created the annual K9 award to help offset the cost of creating or maintaining a K9 program. Law enforcement agencies from around the US are encouraged to participate by gathering votes from the community and submitting photographs of their K9s. The contest is just one aspect of the Aftermath Cares program, directed toward rewarding first responders for their ongoing efforts to protect and improve their communities. For more information on Aftermath trauma cleaning services, or to learn more about the relationship between Aftermath and law enforcement, call 877-872-4339 or visit www.aftermath.com.
Media Contact:
Tina Bao
Chief Marketing Officer
(630) 423-4254
tbao@aftermath.com
Additional Links