After a Successful First Season, the Producers of the Series "Behind the Blinds Aka Filmmaking 101" Are Ready to Bring the Second Season to the Next Level
- After the successful release of the first season of the comedy web series "Behind the Blinds aka Filmmaking 101," ASCA Films announces its intention to produce the second season, as it became popular in multiple countries.
Press Release
-
Apr 11, 2016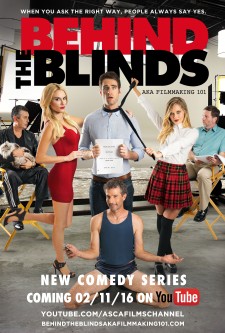 Los Angeles, April 11, 2016 (Newswire.com) - The series is available for viewing in 5 different languages. Viewers have a choice between English, French, Ukrainian, Spanish and Hebrew subtitles. The demand for the series translation stems from its multicultural humor, which is appreciated all over the world. The series may also become a helpful tool for those who are studying English.
Inspired by the positive reviews, the series producers, Anna Skrypka and Charles Ancelle, have announced an increase in the number of the second season episodes to fifteen, as the eight episodes of the first season became viral after being released on the "Behind the Blinds" YouTube channel.
"We have an outline for the second season, and an idea of where the subsequent seasons are going. The story will expand through new characters, situations, and sources of conflict," explains Charles Ancelle. "The sky is the limit, but we aim for at least five seasons," he adds.
While the first season goes through all the steps of pre-production, showing most of the dos and don'ts and also highlighting the questionable practices happening on modern independent film sets, the second season will concentrate more on character development, and the story will revolve around the actual principal photography of the film.
"Today, viewers have a great choice of video content. And we are really glad to see that the theme we have chosen for our series has resonated with the audience," says Anna Skrypka. "We are excited about the opportunity to shoot more content of that kind," she concludes. 
About "Behind the Blinds aka Filmmaking 101"
The main characters of the comedy series are mobsters who need to launder money. They choose to make a film, using a manual from the net, and get to see what filmmaking is about. The comedy is produced by ASCA Films, a Los Angeles-based film and television production company. Among the international team members are award-winning Ukrainian producer Anna Skrypka, French director and producer Charles Ancelle, and Spanish editor Adrian Morales Ramos, as well as other cast and crew members from Brazil, France, Israel, Russia, Spain, Ukraine and the USA.
Share:
---
Categories: Mixed Media, Television, Comedy, Arts and Entertainment
Tags: Anna Skrypka, behind the blinds, Charles Ancelle, comedy, filmmaking 101, producer, tv series, web series
---