AFS Reveals Key Questions to Ask a Floor Plan Lending Company
In a new statement to the press, AFS shares a few key questions that dealerships should ask when interviewing floor plan financing companies.
Press Release
-
updated: Aug 30, 2017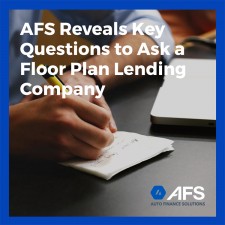 IRVINE, Calif., August 30, 2017 (Newswire.com) - For used car dealerships, floor plan financing can be extremely advantageous — and in some cases, it can actually be necessary. Even so, there is merit in interviewing different floor plan lenders and deciding which service is right. In a new statement to the press, AFS shares a few of the key questions dealerships should ask before choosing their floor plan financing provider.
"Floor plan financing is essentially a loan, and as with any loan, there are interest rates involved," says AFS in its press statement. "Make sure you ask about current rates, and shop around to ensure you're getting the best deal."
On a related point, dealerships are encouraged to ask about fees. "There can be fees associated with your loan, and you'll want to have a clear sense of these one-time payments well in advance," advises AFS.
Floor plan lenders will have different expectations about when loans are paid back. "When are your payments going to be due? What is the fee schedule? Again, get the details in advance," suggests AFS.
Dealers should also have a clear sense of what happens if they cannot sell all their inventory. "Hopefully, you won't bite off more than you can chew — but if you do, what are the penalties?" AFS asks.
There are other important questions that dealers should ask, specifically with regard to inventory management. "Are you required to insure your inventory against theft or natural disaster? And are there any other stipulations with regard to managing your inventory? Know what your floor plan lender will require of you," advises AFS.
Finally, the company recommends that dealerships inquire about whether the lender will want to pay the auction company or wholesaler directly. "You may or may not have a check actually come your way, as some floor plan lenders prefer to work more directly with auction companies and wholesalers," says AFS. "Be aware of this, and ask questions about the nuts and bolts of the process itself."
The bottom line, according to AFS, is that due diligence is key. "Not all floor plan lenders are created equal, and it's smart to do some research and make a truly informed approach," says AFS.
AFS provides financing services to dealerships throughout California. More information about the company and its services can be found online at www.useafs.com.
ABOUT AFS:
AFS is a financial services company that works with auto dealerships throughout California, providing a full range of offerings that include credit lines, floor planning, and beyond. AFS can also provide dealerships with access to top-of-the-line marketing and legal services. More information about the company can be found online at www.useafs.com.
Source: Auto Finance Solutions (AFS)
---
Categories: Finance, Automotive
Tags: AFS, Auto Finance Solutions, Car dealership, Floor Plan
---