Aerospace and EV Segment Gets a Boost With New Starrag Machine Tool
Press Release
•
Aug 31, 2023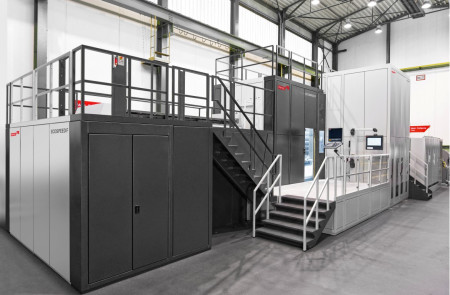 ROCHESTER HILLS, Mich., August 31, 2023 (Newswire.com) - As an industry-leading supplier to the aerospace, automotive, appliance, defense, renewable energy and recreation sectors, the 3-Dimensional Services Group is currently witnessing a period of exceptional growth. Fueled by an increasing demand from existing automotive clients moving to EV projects and a surge in new aerospace business, the Rochester Hills, Michigan-based manufacturer will be expanding its machining capacity with the imminent arrival of a Starrag ECOSPEED F 1540 5-axis machining center.
With seven Southeast Michigan facilities across two campuses in Rochester Hills and Lapeer that encompass more than 500,000 sqft of manufacturing space, the Starrag ECOSPEED F 1540 will be installed at the 3-Dimensional Services Group's Lapeer campus, which specializes in precision metallic components and assemblies.
Alluding to why the low-volume manufacturer is investing in new technology, Chief Strategy Officer Mr. Daniel J. Smith says: "The 3-Dimensional Services Group is the most technically advanced job shop in the market. Our customers include the most innovative companies in the world who come to us for production intent parts with incredibly short lead times. We can then quickly scale our expertise and processes to provide a bridge to the start of production. As we look to expand our capabilities to support a wider range of aerospace customers, we will also use these new capabilities to grow our existing electric vehicle parts business - and that is why we have invested in a Starrag machine."
With a multitude of available machine tool suppliers, the 3-Dimensional Services Group conducted a review of the market, and it was Starrag that stood above all its rivals. Discussing this decision, Daniel adds: "We pride ourselves on our commitment to investing in the world's leading machine tool brands. If we see capable technology that will create value on our shop floor or deliver greater revenue opportunities, our owner, Douglas Peterson, will always support the investment to bring those capabilities in-house.
"When it came to Starrag, the technical characteristics and form factor of the ECOSPEED F 1540 are incredible. We view this investment as an opportunity to acquire a world-class piece of machinery. The extensive feasibility studies we conducted with trial parts at Starrag suggested that for some of the trial parts we currently run, we could cut our cycle times in half. The machine simulations suggest that we'll be able to mill aluminum parts nearly twice as fast as we currently are. This magnitude of difference is incredible when you consider that the machines we currently operate are very high-end mills. With the results of these feasibility studies, it is evident why Starrag is a world leader in the aerospace industry and is recognized as a brand trusted by globally renowned OEMs."
What makes the Starrag ECOSPEED F 1540 the world's most revered machine for the machining of large complex components in the aerospace industry are its unique kinematics and Sprint Z3 three parallel linear axis drives that deliver unsurpassed flexibility with astounding rigidity, speed and performance. This is epitomized by its 1G acceleration and deceleration in all axes that enable the ECOSPEED F 1540 to achieve the highest material removal rates in the industry.
With a work envelope in X, Y and Z axes of 169.3 by 63 by 26.4 inches, the ECOSPEED F 1540 will be the perfect machine for accelerating growth at 3-Dimensional Services Group. As Daniel continues: "This Starrag machine will allow us to machine aluminum with unparalleled speed and accuracy - as the feasibility studies have proven. We will utilize this machine to mill large aerospace parts as well as stamping tools for parts like EV battery enclosures. We currently run a high mix of low-volume parts, which is typical of large structural aerospace parts and also tools and components for the expanding EV industry."
To produce this mix of components, the 3-Dimensional Services Group had a set of criteria for its machine tool selection, as Daniel says: "We had a set of KPIs in place when we were looking for a new machine. We needed a machine with a large workspace capacity, a large tool capacity, high speed and feed rates with rapid acceleration - the Starrag ECOSPEED F 1540 ticked all the boxes. We mill a significant amount of aluminum components and tools, and this machine's performance will dramatically improve the cycle times while maintaining high-quality surface finishes that are important to both our customers and us. We want the ability to machine to tight tolerances, faster than anyone else in the world. The world-class performance and heavy-duty construction, reliability and service of the Starrag brand will provide this."
Looking at the technical merits of the Starrag ECOSPEED F 1540 and how it fits into the strategy of the 3-Dimensional Services Group, Daniel concludes: "The performance of this machine is outstanding. It has a 120kW 30,000 rpm spindle with a maximum feed of 1968 inches per minute - this is world-class performance. This will be one of the finest CNC mills in the United States and it will be available to all of our customers."
With the ability to automatically change angle milling heads plus the end tool holders of the milling heads, and incorporate pallet handling systems and complex FMS systems, the Starrag ECOSPEED F 1540 provides growth opportunities for the future. However, it was features like the heavy-duty HSK A63/80 tool taper with 21kN clamping force and an 80 position tool magazine (129 tools optional) and the groundbreaking kinematics that deliver a combination of exceptional speed, power and flexibility on a robust heavy-duty yet nimble construction that sealed the deal for the 3-Dimensional Services Group.
Company profile Starrag
High-precision machine tools for greater productivity
Starrag Group is a global technology leader in manufacturing high-precision machine tools for milling, turning, boring and grinding workpieces of metallic, composite and ceramic materials. Principle customers are internationally active companies in the Aerospace, Energy, Industrial, Micromechanics and Transportation sectors. In addition to its portfolio of machine tools, Starrag Group provides integrated technology and maintenance services that significantly enhance customer quality and productivity.
The umbrella brand Starrag unites the product ranges Berthiez, Bumotec, Dörries, Droop+Rein, Ecospeed, Heckert, Scharmann, SIP, Starrag and TTL. Headquartered in Rorschach/Switzerland, the Starrag Group operates manufacturing plants in Switzerland, Germany, France, the UK and India and has established a network of sales and services subsidiaries in the most important customer countries.
The shares of Starrag Group Holding AG are listed on the SIX Swiss Exchange.
Source: Starrag