Aegis One Develops World's Smallest RFID Tag for Surgical Instrument Tracking
Press Release
•
updated: Jul 25, 2018
Aegis One develops cutting-edge technology to solve challenges in surgical instrument tracking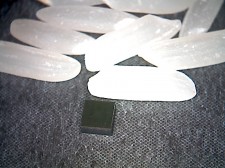 FRANKLIN, Tenn., July 25, 2018 (Newswire.com) - Tennessee-based Aegis One has just announced that the company has developed a new cutting-edge technology for surgical instrument tracking with RFID capabilities. This radio-frequency identification uses electromagnetic fields to automatically identify and track tags attached to objects. As a result the smallest RFID tag for surgical instrument tracking has been developed.
"We are excited to announce this great advancement for surgical instrument tracking," says Shane Petyak, founder and CEO of Aegis One. "The goal is to provide the smallest, most durable tag and attachment process for surgical instrumentation globally."
Surgical instrument tracking solutions track the location, usage and maintenance of surgical instruments and are a critical component in the medical field. News reports indicate countless stories of doctors mistakenly leaving surgical equipment inside their patients during surgeries. These mistakes can cause permanent damage and even death.
In order to address this effectively, on Sept. 24, 2018, FDA § 801.45 requires all surgical equipment to be labeled with a unique device identification (UDI) and must bear an UDI as a permanent marking on the device itself if the device is intended to be used more than once and intended to be reprocessed before each use.
The new RFID tag and attachment methodology developed by Aegis One can withstand thousands of autoclave cycles and is just 1/4 the size of a standard grain of rice. The Aegis One tag and scanning technology can also be integrated with all existing instrument-tracking systems globally.
Petyak is a surgical instrument and tracking specialist with more than 15 years of surgical instrument technology experience. He has been ranked as one of the foremost experts in the surgical instrumentation and tracking methodologies field by universities and healthcare organizations.
For more information about this partnership and new Aegis One tag, visit AegisOneUSA.com.
About Aegis One
Aegis One is a technology company located in Franklin, Tennessee, that develops custom RFID asset tracking solutions. For more information, visit AegisOneUSA.com.
Source: Aegis One
Related Media