Advocating for Better Crypto Market Data, Nomics Announces Transparency Ratings for Cryptocurrency Exchanges
Press Release
-
updated: Jun 12, 2019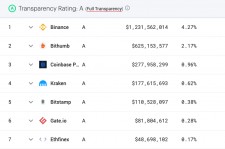 BOSTON and MINNEAPOLIS, June 12, 2019 (Newswire.com) - Nomics, a crypto market cap and pricing data company that delivers professional-grade, cloud-based data products and APIs for institutional crypto investors, announced recently that it has released transparency ratings for cryptocurrency exchanges. The purpose of these ratings is to grade cryptocurrency exchanges by their willingness to provide auditable history and to incentivize exchanges to provide better, more reliable data.
"Just like an IRS audit, the more data history and granularity provided by an exchange engaging in nefarious activities, the more likely they are to be caught," said Nomics CEO Clay Collins. "And upstanding exchange operators have every incentive to provide high-granularity data (with as much history as possible), as this kind of transparency attracts market makers, generates the broader discovery of an exchange's markets and trading pairs and engenders trust among institutional traders, investors and regulators."
Because Nomics has found that opacity around exchange data is correlated with fake volume, toxic activity and wash trading, the exchange transparency ratings range from A (exchanges that provide highly granular trade-level data with full history) down to F (exchanges that do not provide a public market data API).
According to Nomics CEO Clay Collins, "Our exchange rankings were heavily influenced by Bitwise Investments March 20, 2019 report to the U.S. Securities and Exchange Commission. Congratulations to Binance, Coinbase Pro, Kraken, Bitstamp, Gate.io, Poloniex, bitFlyer, Gemini, IDEX, Binance Jersey, and Bitfinex on their top tier rating on our crypto exchanges index."
These exchange ratings can currently be seen in three places on Nomics.com:
Users of Nomics.com can view any page on the website through the lens of data provided exclusively by A-level exchanges. In addition, exchange ratings have been included in the Nomics cryptocurrency API and all aggregate metrics will soon be filterable by exchange grade.
About Nomics.com
Based in Boston and Minneapolis, Nomics.com is an API-first crypto market cap and pricing data company delivering professional-grade market data to institutional crypto investors and exchanges.
Source: Nomics Inc.
Share:
---
Categories: Cryptocurrency
Tags: Binance, Bitcoin, Coinbase Pro, crypto market cap, cryptocurrency api, cryptocurrency data, cryptocurrency exchanges, cryptocurrency market data, cryptocurrency trading, fake cryptocurrency volume, fake exchange volume, wash trading
---